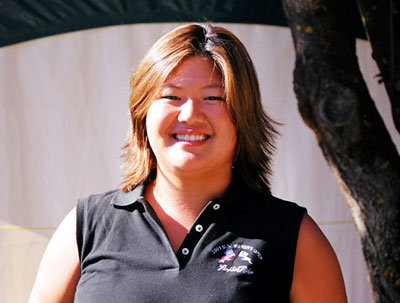 SeoulSisters.com photo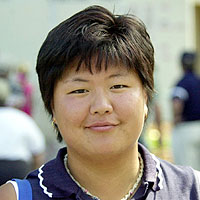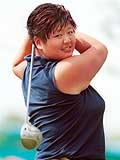 Seoul Sisters: So what have you been up to lately?

Christina Kim: We've been on break. That's basically it.

SS: Going through interview withdrawal right now?

CK: (laughs) Yeah, I am! I've got the shakes! (laughs)

SS: That's terrible! So, when did you start playing golf?

CK: I was close to 12 years old; I was 11 and a half when I picked up the game. My dad was the one who taught me from the start. Basically, he said. 'Here's a club. Here's the swing.' I actually didn't hit a ball for the first couple of months when I picked up the game, I just sat in the backyard and swung 500 times a day just to get a feel for the swing. After a while he said, 'now there's a point to all this. Now, here's a ball. You hit this little ball, and you chase it around a bunch of grass, and you put it in a little cup in as few strokes as possible.' I loved it from the start.
SS: So you didn't really suspect there was a point to it before that?
CK: What do you know when you're eleven and a half (laughs)!? It was like basically another homework assignment, just out there and playing...
SS: Aw, Dad, do I have to...?
CK: Well, I had a little bit of that, cause it was 500 swings a day; you get tired after a while.
SS: Oh my gosh...
CK: But I'm Korean, and we don't really talk back to our fathers. 'Yes, daddy...' (laughs)
SS: So did you know from the start that you wanted to be a pro golfer?
CK: Well, to be honest with you, this may not sound entirely nice, but... I didn't really know there was a pro circuit for the first three years I played. I didn't know what the LPGA was. I knew there was an LPGA when I was about 14, but I was like, 'hmmmm, OK...' I didn't even know you could make money off of it. I didn't even know you could play in tournaments until I was about 13. I didn't know you could get a scholarship for college until I was about 14, cause that's about the time my sister was getting around that age. 'Well, you can go to college with golf'. 'Wow, I didn't know that!' I found out more about the LPGA when I was 16 or so, and that was actually when I knew that was something I'd like to pursue. I was always a person who lived in the moment; I never really look at the future. I guess things like that never really crossed my mind.
SS: 18 years old seemed like a long way off?
CK: 17 seemed like a long way. It was always now now now.
SS: Have you ever been away from home this long in your life before?

CK: Well, actually, last year I played on the Futures Tour, and I was gone from February through August.

SS: Wow.


CK: And I didn't take a single break, whereas (this year) I've been gone from February until now (late September), but I've been back home twice this year so far, so... I have gone on long stretches before, but I was always... the Futures Tour, it's a pro circuit, and your ultimate goal is to be the best player out there, and I wanted to get my LPGA card by playing through the Futures Tour, and I did... It wasn't as stressful, as grueling, as it is out here. I was very surprised. I came out here and I was like, 'Ooo!' Big bright eyes, and having no idea what I was getting into. The last two tournaments, my dad had to drag me around the course, cause I was like... When I got home, we went and saw a New Age Doctor that we go to, and he was like, 'You're near exhaustion!' And I replied, 'I could have told you that!'

SS: You've played every event this year, haven't you?

CK: I've played everything, I've played all four Majors, every Invitational event. This is my rookie season, I've really got nothing to lose. Plus, if I don't play (certain events) this year, in my rookie season, when I come back to it next year, in a sense I'm a rookie as well, because it's the first time I'm playing the event. Now I can pick and choose which tournaments I don't want to play in.


SS: Did you play the Nabisco course before you got onto the LPGA? Cause I know that you went around and played all the LPGA courses before you got out here...

CK: Prior to the season actually starting, I probably played 21 of the courses we play all year, and Dinah Shore was one of them. I was able to sneak out there.

SS: You knew you were going to get into the field? (This is me pulling her leg a little bit!) You just had a feeling?

CK: That's right! Yeah! There's no way I'm not going to get in! Of course I'll be in the top 15 after two weeks! (For rookies, you need to be in the top 15 going into the Nabisco to qualify for the tournament)

SS: (laughs) Yeah!

CK: You know, (I figured), If not this year, maybe next...

SS: Good point.

CK: Might as well. I didn't really have anything else to do. It was nice weather out there, so I actually snuck out there. I've got a friend that has a lot of connections down there, and they were able to get me out there.