2003 Safeway Classic: Before the Event (cont.)
Pages 1, 2, 3, 4, 5, 6, 7,
8, 9, 10, 11, Gallery, Results
Thursday:
Another gorgeous, hot, clear day. When I got to the course, one of the first things I wanted to do was solidify my two remaining interviews. I did find Minny Yeo on the course, but I couldn't get at her, so I went and bugged Paul, who asked her if she could do the interview. She agreed to do it at noon, but told him she did not have much time. I was a bit worried that she would be in a bad mood, but that worry was allayed when noon arrived.

While I waited, I watched the players practice putting. An older gentleman motioned for Hee-Won Han, who had just arrived, to come over and sign something. He handed her a copy of the ESPN The Magazine that had Michelle Wie on the cover, and said, 'Michelle, could you sign this for me?' Hee-Won looked a bit sick, and replied, 'I'm not Michelle' with a thin smile. She walked off, and the guy had egg on his face. Poor Hee-Won! I bet she and the other Sisters have to deal with that kind of thing a lot. It's especially unfortunate, considering all the great things Hee-Won has accomplished, that she is less known than a promising but still unformed 13 year old.

My interview with Minny went really well. She is a RIOT! She cracked me up from the second she sat down. The interview ended up going twice as long as she originally intended, because she kept telling me she wanted to talk some more. We ended up wandering around the grounds a little, and eventually we got to her golf bag, where I took some pictures of her with it. You'll be reading my exclusive interview with Minny in just a few short weeks.

Hee-Won during her pro-am on Thursday
SeoulSisters.com photo

Peanut styling during her pro-am on Thursday
SeoulSisters.com photo

Interestingly, Minny had never been to SeoulSisters.com, the first of the Korean players I've talked to who hadn't. It's especially strange since her husband has been here, and even corrected some of the bio info on Minny's page (Minny really made fun of me for getting her Korean name wrong; I used to call her Min-Ho instead of Min-Son, and she demanded to know who 'Min-Ho' was. For the life of me, I don't know, Minny!). She did know of the site, however, from her hubby.

After Minny, I went to watch Mi Hyun Kim play some of her pro-am round, and got a few nice photos. Like Se Ri, she was very helpful to her pro-am partners in terms of lining up putts, etc. She did not have to do a lot of putting, either, although towards the back nine, she did start putting earlier than some of her partners on some holes, to speed things up (the pace of the pro-ams was positively glacial at times).


By this time it was nearly one PM, and I still had not seen Se Ri. I did see Grace, however. She was wearing an all black ensemble. I caught up with her on the driving range. She was next to Soo Yun Kang, who *also* was wearing all black. I had visions of a cat fight (you know how women can be if they both show up at a party wearing the same thing), and my camera was all ready to catch it, but alas, they were simply friendly as usual. Though they were not interacting a lot with each other, you could tell that they like each other, and that this was a more relaxed time of the event for both of them. I talked briefly with Grace, asking her if it weren't a bit too hot to play in all-black today. She replied that she did not intend to be out there too long. I did not have a chance to ask her about the interview, though, so I returned to the media center to enlist Paul. He suggested that I arrange the interview through Grace's agent, Tim McNulty, who was sitting in the shade outside the media center, looking a trifle bored. He told me to just grab her when she came off the range and she'd do it.

Grace and Soo-Yun Kang back in black
SeoulSisters.com photo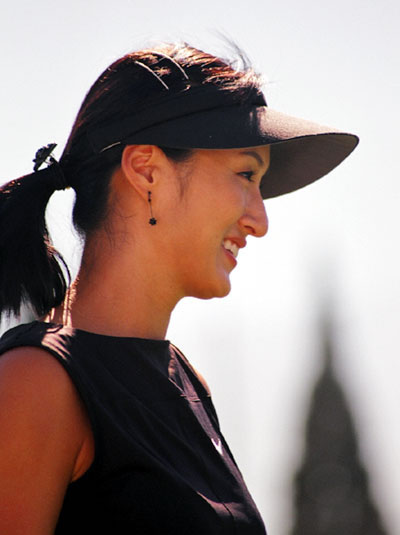 Profile of Grace
SeoulSisters.com photo
When I got back to the range, Kang and Park were still working on their swings and cracking up with their caddies. Kay Cockerill just went right up to Grace and started talking to her in the middle of her practice. Bloody heck, I thought, I should just do that. So next time Grace turned around, I motioned to her and asked her if she could do the interview today. She said yes, and we agreed to do it at 2:30.

While I waited for 2:30 to roll around, I went and filmed Christina Kim finishing her pro-am. Her dad was cutting up on the tee, cracking up the ams. After they all teed off, Christina and I had another great conversation as she walked up the 18th fairway. Christina is sooo cool. She has become one of my top faves based on how gracious she's been all week.

Finally 2:30 rolled around, and de lovely Grace showed up promptly for her interview. I was surprised, because she sure seemed busy practicing, which shows that she really cares about YOU, her fans! Be sure to come back to the site in four weeks time for the details! (I know, I'm a stinker for not giving you more details now, but the suspense should make it oh so sweet when it finally arrives, right?). Just as a preview, we talked about a lot of topics, but I focused mostly on elements of her past that I was interested in clarifying. Did you know Grace won three different national-level contests in her youth that have nothing to do with golf? Only one of them involved athletics! Another one might have seen Grace Park as a young movie star by now. No, I'm not kidding! We talked a little about college, and the Maruhan Cup, her endorsements, how she reacts to fame, and so much more. Be sure to catch it all!