Grace Park featured
In the April 14th issue of Sports Illustrated was a great surprise for Grace Park fans: a large article about the budding superstar, complete with pictures and much praise. Unfortunately, you had to be a subscriber to see it, because it was featured in the Golf Plus section of the magazine, which is only available by request for subscribers. That's right, even I haven't gotten a chance to see this article. So if any kind soul out there want to contribute their copy of the mag, I will be glad to scan the pertinent photos for all to enjoy. And if anyone from Sports Illustrated is reading this, I didn't just say that!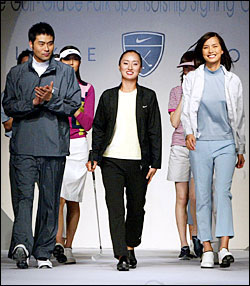 Grace the Glamour Girl
Meanwhile, for obscure reasons, the LPGA decided to invite Grace and several of its other attractive members to a special photo shoot while they were in Hollywood. I'm not sure what the photos were for exactly, but check them out below. All photos swiped unceremoniously from the LPGA website. Click on the thumbnails for the larger versions.
Money List
To the left is the current LPGA money list as of April 21, 2003. You'll notice that the Korean ladies are doing quite well, as you would expect! In fact, there are currently 7 Korean ladies in the top 25, an amazing 28% of the top 25! And Mi Hyun hasn't even kicked it into high gear yet!
| | | |
| --- | --- | --- |
| 2. | Se Ri Pak | $309, 038.00 |
| 7. | Grace Park | $143,203.00 |
| 11. | Hee-Won Han | $127,254.00 |
| 18. | Soo-Yun Kang | $86,073.00 |
| 22. | Christina Kim | $74,943.00 |
| 24. | Jeong Jang | $66,797.00 |
| 25. | Mi Hyun Kim | $66,582.00 |
| 34. | Gloria Park | $42,482.00 |
| 39. | Young Kim | $35,761.00 |
| 85. | Ara Koh | $13,275.00 |
| 89. | Jung Yeon Lee | $11,586.00 |