Se Ri Pak is a woman on the go! Most of us would embrace a week off as a chance to relax, catch up with friends, perhaps check out the latest reality shows on TV. But for Se Ri Pak, life is better than any reality show: it's a mixture of Fear Factor, Survivor and Who Wants to Be a Millionaire all rolled into one! Don't believe me? Well, check out this schedule!
Sunday, May 11, 2003:
Se Ri plays the final round of the Asahi Ryokuken tournament in North Augusta, South Carolina. She shoots a decent but unspectacular 69 and lands a 14th place finish. Her fourth tournament in a row, it would seem like a little R & R is in order. Oh, how little you understand Se Ri!
Just a couple of hours later, she was on a plane to Wilmington, Delaware.
Monday, May 12, 2003:
Se Ri meets the media at the site of her most recent Major victory, DuPont Country Club, where the McDonald's LPGA Championship is played every year. She's there for media day to promote the event. As usual, she gets a zillion questions about Annika and Colonial, which she deftly dodges in favor of talking about herself and the tour. Se Ri tells the assembled throngs that she feels she is a '6 or 7' on a 10 scale in terms of her golf, and that she anticipates that she will reach her peak in two to three years. Her fellow LPGA players shudder at the thought. Grace Park is quoted as saying, "If she is a six or seven, then we are all in trouble".
For more details, check out this article! I particularly like the quote about her by Alice Miller, which reads, 'She's very humble, but deep down beats the heart of a tiger'. A perfect encapsulation of Se Ri!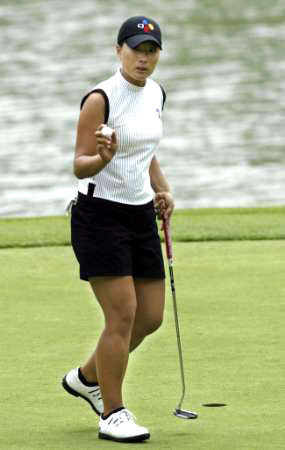 Reuters/Tami Chappell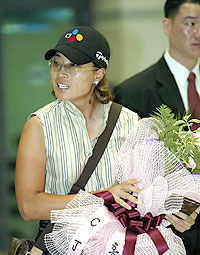 Monday, May 12, 2003 - Wednesday, May 14, 2003:
From there, Se Ri hops on a plane for the looong trip to her homeland. Yes, she is returning to South Korea. It is a trip she takes annually around this time, usually to participate in the Korean Open. But this year, the rumor is that the Korean Open has been postponed until September due to SARS fears and sponsorship problems. Regardless, Se Ri is instead to participate in a tournament called the MBC X-Canvas Open on the KLPGA tour. She loses a day due to the international dateline, and arrives in Seoul on Wednesday morning.
Wednesday, May 14, 2003:
Se Ri arrives in Seoul, and as usual is greeted by a crush of press and lots of flowers. Most of the questions are about whether Se Ri wants to play a men's tournament. She takes it in good stride.
Whenever Se Ri goes to Korea, you can bet they'll jam her schedule with public appearances. Is it any wonder that she's had so much trouble winning there since she joined the LPGA? This time was no different. They gave her a few hours to tidy up and rest, then on the night of the 14th, she appeared at dinner hosted by LG, one of the sponsors of the upcoming event. The gimmick was that Se Ri was to give a lecture about golf, then try to apply what she said by teaching a neophyte some basics. That neophyte was none other than Korean movie heartthrob Dong-Kun Jang (who has appeared in at least one movie some Westerners (including me) have seen, the 1999 police drama Nowhere to Hide). Well, Se Ri has admitted to admiring him in the past, so it must have been a fun moment for her. And it looked like he had a good time, too! Check out the photographic evidence!