This is not a year Se Ri Pak will remember fondly. With the exception of the Michelob Ultra, which she won to enter the Hall of Fame, and a few other isolated moments such as the Raon Console Invitational Skins Game (aka the Tiger Skins Game, profiled elsewhere in this issue), Se Ri has had a lot more downs than ups in 2004. She even took a prolonged break during a time of year she usually loves, all in order to work on her driving. It didn't seem to help: her first event back after the break was arguably the worst of her entire LPGA career.
But since then, things have gone a great deal better for her. The key seemed to be returning to her native country, which is interesting, since her slump seems to have started right after she returned from her home country back in May. Once her dad got a chance to work with her on her swing, her confidence returned somewhat. As a result, she managed an 11th place at the Japanese Ladies Masters, and another 11th place at the CJ 9 Bridges Classic. This was her worst finish ever at that event, but still a whole lot better than what she had been doing before.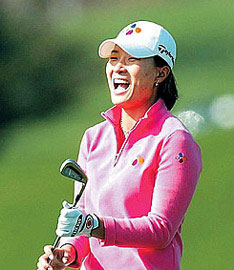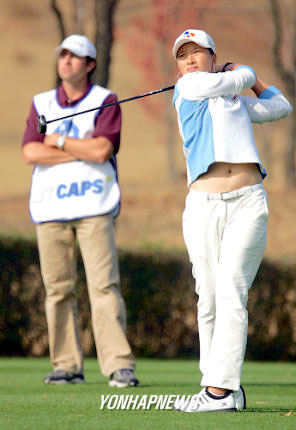 Se Ri got off to a great start at the
final KLPGA event of 2004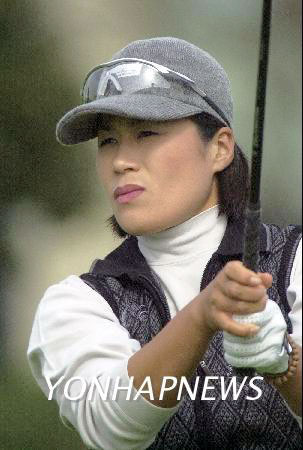 Hyun Soon Park was the first round leader
The week after the CJ 9 Bridges, she decided, rather than playing the Mizuno Classic, to instead play the final event of the KLPGA season, a new tournament called the ADT-CAPS. It's not clear exactly why she made this decision, as she had generally done well at Mizuno in the past. Perhaps she decided it would be easier to stay in Korea, since she was scheduled to appear at the Tiger Skins Game the following week. Regardless, she prepared diligently for the event, and as usual, attracted the interest of the press, who followed her practice rounds and asked her whether she felt she could at last get on the winning track again. Since she confided that she would play no more LPGA events in 2004, this was her last chance to get a trophy this year. She was determined to give it her best effort.
Her first round effort was indeed good enough to put her not only in contention, but right in the very thick of battle for the trophy. She managed a six birdie, two bogey 68 that left her in a tie for third place, just one shot out of the lead. It was the best start she had had since... well, since the Japanese Ladies Masters two weeks earlier. But at that event, she faded in her final two rounds. Would she be able to maintain the pace here?
The leader was Hyun Soon Park, a golfer perhaps best known as the cousin of Major League baseball pitcher Chan Ho Park. Hyun Soon also has non-exempt status on the LPGA, but for the life of me, I don't recall her actually playing an event in the past two years on this tour. Of course, one reason Park may have stuck close to home is that, unlike a lot of the ladies on tour, she is married. And in fact, she also is six months pregnant! It didn't hurt her a bit this day, as she racked up an 8 birdie, one bogey, one double bogey 67 to take a share of the lead.
Meanwhile, another player who had distinguished herself this year was 18 year old sensation Bo Pae Song. Song was leading the KLPGA tour in Rookie of the Year, Player of the Year and earnings, and everyone wondered if she could end the season in style with yet another win. She certainly got off to a promising start, shooting a 3 under par 69 that left her tied for 6th after day one.
One player who had made a bit of a splash on the first day really emerged as a major force on day two. That player was the fairly unknown 16 year old amateur Na Yeon Choi. Along with Se Ri, she had also managed a 68 on day one, but on day two, which was a Friday, she burst forth with a brilliant performance. By the time the final players reached the back nine, she was tied with Se Ri Pak for the lead at 8 under par. But Se Ri had major problems on the 14th hole, ending up with a double bogey to drop her back in the pack. She left herself with mid-length birdie putts on the next two holes, but could not cash them in. Then Hyun Soon Park made a 40 foot birdie on hole 16 to move ahead of Se Ri to 7 under par. Se Ri was still in contention, but was stalling.
That's when Choi, playing in the group behind Se Ri, made her move. She managed a birdie after a great approach on 16 that moved her to 9 under, then made another birdie on the final hole to get to 10 under par. Se Ri was not able to make another birdie and finished the day at 6 under, four shots back. She was now in 6th place, and had a considerably tougher road to getting the win than she had had after the first day. But the youthful amateur would have her hands full holding of the Golf Queen for this prestigious win.
On the final day, young Choi had the kind of a start that you would dream of having when you are in the lead and trying to fend off superstars. In her first three holes, she made two birdies and an eagle. The eagle came on a par 4, meaning she dunked the shot from the fairway. Se Ri, meanwhile, had a bogey in the first three holes. Thus, just like that, Choi's lead went from four shots to nine over Se Ri. Granted, there were other players closer at that point, but none of them were as threatening as Pak.
Se Ri recovered nicely from her start and began to chip away at the lead. By the turn, she had closed it to six shots, and finished with a solid 68 to move to 10 under par. Choi, meanwhile, had a few bogies, and for a moment, looked in danger. But she made two birdies later, and secured a four shot lead that she never relinquished. So the good news for Se Ri Pak was that she scored a second place finish, her best since August. And since she only lost to an amateur, that meant she shared a third of the first prize money with the other two women who finished tied at 10 under (since amateurs, obviously, can't win any money and remain amateurs). But the bad news was that the young amateur was just too strong this day to be overcome. The other big name on the leaderboard was last year's KLPGA player of the year Ju Mi Kim, who finished a shot behind Se Ri at 9 under (good for 5th place). Soo Yun Kang ended up in 13th place, Bo Pae Song in 11th.
Afterwards, Choi said that she was happy to have won, but didn't like being compared to Se Ri Pak, or to anyone; she wants to be known as her own person. She also hinted that she might soon turn pro. Judging by the incredible poise she showed all week, she might very well be next year's Bo Pae Song... or even (dare we say it and offend Ms. Choi) the new Se Ri Pak?! Time will certainly tell!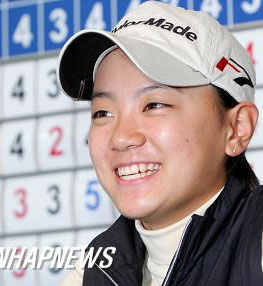 Na Yeon Choi was all smiles after
round 2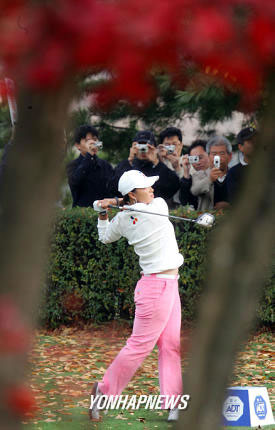 Se Ri kept herself in contention on Day 2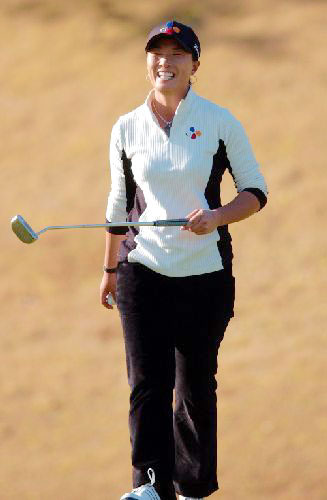 Se Ri couldn't take the trophy, but still
had reason to smile.