A couple of weeks after the SK Enclean, the KLPGA held their next event, the PAVV Invitational. This event's defending champion was Soo-Yun Kang, and she returned eager to make it two in a row. But it wouldn't be easy; they invited a plethora of top golf stars to challenge her. Included in the field were British Women's Open champ Jeong Jang; BMO Canadian Women's Open champ Meena Lee; the top two finishers on the Futures Tour among the Koreans, Kyeong Bae and Seon Hwa Lee; and two non-Korean golf stars, Laura Diaz and Carin Koch. And of course, the usual top KLPGA players such as Bo Bae Song, Ga Na Lee, Na Yeon Choi and Ji-Ae Shin, the amateur who had just won the SK Enclean. It promised to be quite a battle.
This event took place at Phoenix Park Country Club in PyeongChang, Kangwon Province. The course was 6,259 yards and par 72.
Second year pro Un Ah Lim, 22, took the first round lead with a 6 under par 66. Her best finish this year had been an 11th at the Lordland Cup/Maekyong Open a few weeks previously. In second at 4 under par was Min Jee Son. Tied for third at 3 under par were Bo Bae Song, Na Yeon Choi and Meena Lee. Jeong Jang shot a 70 and was tied for 6th with Laura Diaz among others. Carin Koch shot a one under par 71 and was tied for 13th with Kyeong Bae. Kangsy, who was still apparently not 100% following her wrist injury, shot a 2 over par 74.
In round 2, Un Ah Lim continued her fantastic play by throwing out a 4 under par 68 to follow her first round of 66. She now stood at 10 under par and was well in the lead. In second was teen and KLPGA rookie sensation Na Yeon Choi (she won last year's ADT-CAPS event, beating Se Ri Pak in the process), who shot a 70 to move to 5 under total.
In third was another lesser known player, Song Cha Pak, who was at 4 under par total. There was a tie at 3 under which included Jeong Jang (who shot 71 on Saturday) and Meena Lee. Kangsy was at even par (tied for 15th) after two rounds.
Although Lim looked like she had things well in hand, golf has a way of throwing surprises into the mix, and that certainly happened in round 3. Coming out of nowhere was yet another one of those teenage rookie sensations that South Korea seems to have in overflowing abundance. This time it was 18 year old "super rookie" Hee Young Park, who shot a blistering 7 under 65 (7 birdies, no bogies) to charge from behind on Sunday and capture the lead. Could Lim respond?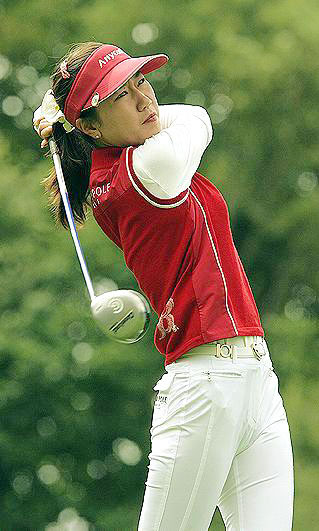 Kangsy during round 1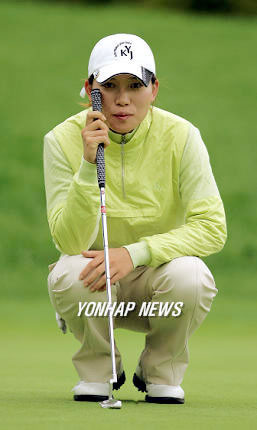 First round leader Un Ah Lim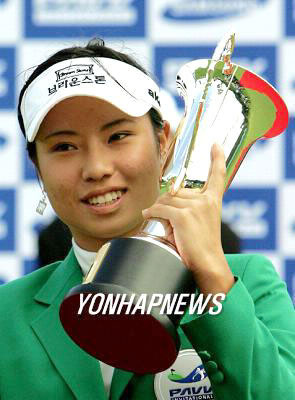 Hee Young Park and the spoils of victory
Un Ah had a six shot lead with nine holes to play, and got it to 13 under par by the 11th hole, but then had three bogies in a row starting at the 12th hole, and two more bogies coming in to drop to 8 under. Since Park had finished at 11 under, that meant that the rookie grabbed the win, with Lim finishing tied for second. A crushing disappointment for young Lim.
Meena Lee had a great final round, shooting a 67 to leap into a tie with Lim for second. Bo Bae Song recovered nicely from her crappy second round to score 67 herself and move into solo 4th, while tied for fifth were JJ and Na Yeon Choi. Kangsy ended up in 10th.
So who is Hee Young Park? She is a young rookie that has already made a name for herself in the pro ranks, though she just turned pro recently. She had never won on the KLPGA tour before, but she did win the Taiwan Open on the Ladies Asian tour in January. With this win, she leapt to the top of the Rookie of the Year standings, ahead of Na Yeon Choi. Her plans include trying out for the LPGA tour in 2006. Watch out, looks like another star in the making!