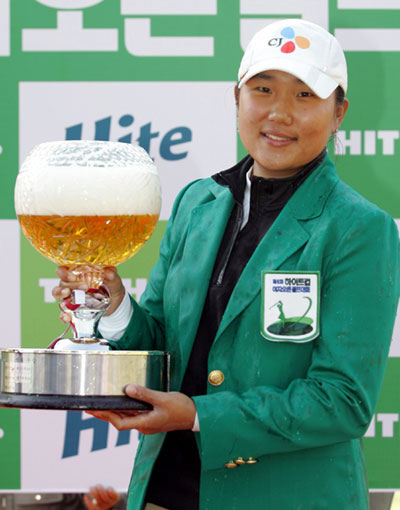 Hite Cup Women's Pro Golf Championship
The next KLPGA event ran from October 20 through 22nd. It was the Hite Cup, sponsored by Hite Beer. Seon Hwa Lee won the event in 2005, and among her prizes was a trophy that looked like a gigantic glass of beer, filled to the brim with actual beer. Presumably Lee, who was underage at the time, did not actually drink the beer, but she was probably polite in declining it all the same!
This year, being that this was the week before the KOLON Hana Bank event (formerly the CJ 9 Bridges), a lot of top LPGA Koreans were at the Hite Cup. It didn't hurt that this one had a big purse by KLPGA standards, 400,000,000 won, with 100 million won going to the winner.
So who all was there? LPGA stars Soo-Yun Kang, Soo Young Moon, Kyeong Bae, Jinnie Lee, Birdie Kim and Joo Mi Kim for starters, as well as defending champ Seon Hwa Lee. As well, all the usual KLPGA stars showed up. Ji Yai Shin really had a chance to put the KLPGA Player of the Year award away if she could manage another top finish.
The Korean media turned this into a battle of the superstar rookies: Ji Yai Shin and Seon Hwa Lee. It didn't hurt that the two young stars were paired in the first round, adding to the drama. And once again, it was Ji Yai Shin who delivered. She shot a 3 under par 69, tied for the best round of the day, to take the first round lead. Lee, meanwhile, played solidly, shooting a one under par round herself. Tied for the lead with Shin was Hyun Hee "Honey" Moon, who had been playing pretty well of late. Her most notable accomplishment was winning the first of two sectionals at LPGA Qualifying School the previous month. Could she add a KLPGA title to her list of accomplishments?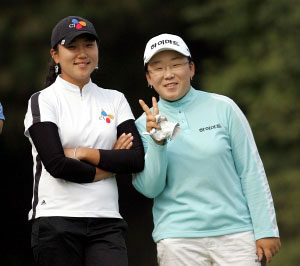 Hee Young Park continued her mediocre play with a one over par 73, while Jinnie Lee, who had won the previous week, fell to a 6 over par 78. Also shooting a 78 was Kyeong Bae, who has really gone into the tank in the past few months. Considering she was the KLPGA's leading money winner in 2005 despite only playing in 7 of 12 events, her game has definitely taken a turn for the worst. Hopefully, she will be able to get herself together before the 2007 season.
In round two, Hyun Hee Moon and Ji Yai Shin both continued their strong play. After the round was over, they both still stood tied for the lead, this time at 6 under. They had matched each other stroke for stroke so far, and would be paired in the final round for a shoot-out! The big difference being that Shin already had three KLPGA titles, whereas Moon was still aiming for her first.
Meanwhile, most of the other star players who might challenge Shin fell away. Seon Hwa shot a dismal 5 over par 77 to fall to 4 over total. Hee Young Park shot a 75, Bo Bae Song a 76.
Kangsy, however, had a nice round, a 2 under 70, rebounding nicely from her first round 75. Despite that, she was still 7 shots behind Shin and Moon. Joo Mi and Birdie Kim were both at even par total, with Joo Mi shooting a 70 in round two, Birdie a second straight 72.
So with one round remaining, Shin and Moon had a three shot lead over Jin Joo Hong and So Hee Kim, and it looked increasingly like a two horse race for the trophy. But this is golf, and strange things happen.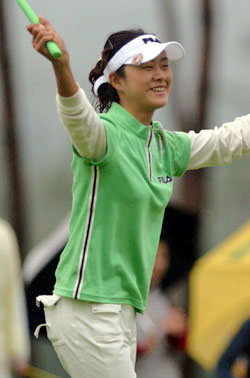 Joo Mi Kim has a habit of throwing great rounds out when you least expect it; she did it in the previous event, for instance. Starting at even par, she had a lot of ground to make up. And she did it. She made four birdies on the front nine to move to 4 under, then more birdies on 11 and 14 to move to 6 under.
Meanwhile, Shin got out to a terrible start with a triple bogey on the par 3 second. But she didn't get where she is by giving up, and after that she made birdies on 4, 5, 8, 10 and 11 to roar up to 8 under. Hyun Hee herself was three under on the front nine to move to 9 under, but a bogey on 10 and another on 14 caused her to fall back to 7 under. It looked like another Shin victory coming.
But then Shin began to struggle. She made bogies on 12, 14 and 15 and fell all the way back to 5 under. Joo Mi made a bogey on 16 to also fall to 5 under, where she finished. When Hyun Hee birdied 17, it moved her to 8 under and a seemingly easy win. With just one hole to go, she had a three shot lead over both Shin, playing in her group, and Joo Mi, who had already finished.
The final hole was a par 5, and Shin birdied it to move to 6 under. All Moon needed was a bogey to claim her first KLPGA win. But she struggled to a crushing double bogey, fell to 6 under, and wound up in a playoff with the most dominant player on tour, Ji Yai Shin. From three shot lead to tie in just one hole!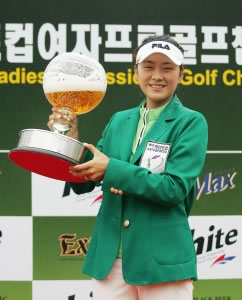 On the 18th, their second playoff hole, Moon caught a bit of luck when Shin's second shot wound up in some tall grass near a pond, which required a penalty drop. Moon went on to collect the win, her first on the KLPGA tour (she won earlier this year on the Ladies Asian Tour). She got the big beer glass trophy, although, as you can see in the gallery, somewhere between the two trophy photos the trophy was mysteriously drained of beer... Hmmm, methinks she celebrated with a nice large cool one!
Shin, meanwhile, notched yet another second place, which allowed her to become the first woman in KLPGA history to exceed 300,000,000 won in a season. The POY award is all but wrapped up for her.