Hee-Won Han expecting her first child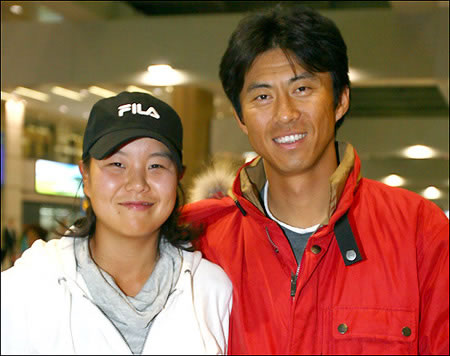 Hee-Won Han was the first of the young Korean stars to take the plunge and get married when she wed former star pitcher (and perhaps future star pitcher! See below) Hyuk Son in December of 2003. Son retired soon after that, owing to shoulder problems, and has followed his wife in her career ever since, cheering her on to victory four times since their wedding.
Last month, Hee-Won announced that she is about to become a pioneer in another way. She and her husband told the world that Hee-Won is pregnant with her first child, which is due in July of next year. Hee-Won will doubtless take several months off around the time of the birth to take care of the baby. But her exact plans are still unclear. Will she take the entire season off? Or will she play for a few months while pregnant before stopping? Several LPGA golfers have done this in the past, but it's never happened to one of the top Korean stars before. What she does might once again become a template for the other great golfers of her generation to follow.
As well, no one has yet uttered the R word (retirement), but she has not yet made clear what her plans will be once the baby arrives. Things have been made more complicated by the fact that her husband is coming out of retirement to play on an American Minor league baseball team, in the hopes of advancing to the Majors. Whereas Hee-Won has been the bread winner the past few years, the tables will turn 100% as Sonny brings home the bacon for her.
The other open question is what will happen between her and her longtime caddie Sean Clewes. Sean and Hee-Won have been the most successful caddie-golfer pairing among the Korean golfers in the past four years. He will certainly caddie for other golfers next year when she is gone from the tour. Hopefully, however, they will reunite when/if she gets back to action. It would be a pity to see them split apart, especially after the same thing recently happened with Grace Park and her longtime caddie Dave Brooker, who left Grace to caddie for Lorena Ochoa.
As for the future, chances are that Hee-Won is not going to retire just yet. Although she hasn't made her plans clear, she has asked for a medical extension from the LPGA to allow her to miss most or perhaps all of next season. If she were thinking of retiring, she might have just done so rather than ask for the extension. So with any luck, we will again be seeing this great player out on the links sometime in the future. And in the meantime, congratulations to Hee-Won and Sonny on the great news!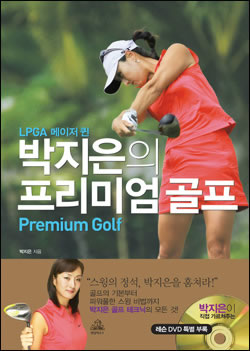 Grace writes new golf book
Random House Korea will soon be releasing a golf book featuring 'Birdie Queen' Grace Park. The book is titled 'Grace Park's Premium Golf', and it is an instructional book on how to play golf the Grace Park way. She will show you all aspects of the game, from address to grip to swing, short game to bunker play to course management. The book will retail for 36,000 won (roughly $35). It comes with a DVD showing you Grace in action.
Sounds great, but as of the last report, the book will only be available in South Korea, and only in Korean. Come on, Grace! Your English language fans would love to learn how to play golf the Grace Park way as well!!
Meanwhile, Grace Park, Natalie Gulbis and Lorie Kane are the three golfers on the LPGA tour sponsored by Michelob Ultra (you may have seen the great Michelob Ultra TV commercial featuring Grace, where she hits a typically awesome shot, then walks in slow motion up to the green while the music swells and words on the screen compliment her). This year, the company sponsored a contest called the 'These Girls Rock' Sweepstakes. The contest concluded on October 31st, after which a random drawing rewarded a bunch of prizes. The grand prize, awarded to three teams of three people, was a trip to Trump International golf course to play a round of golf with one of the three ambassadors. Check out the included gallery to see photos of the lucky foursome that played 18 holes with Grace Park! As you can see, a splendid time was had by all. Grace seemed to really be getting into it herself! I sure hope we'll be seeing Grace back at the top of her game again in 2007; I think everyone misses the fun she brings to the course.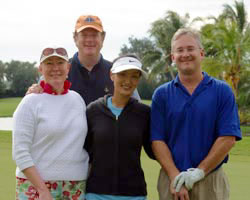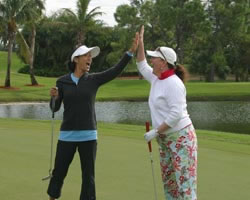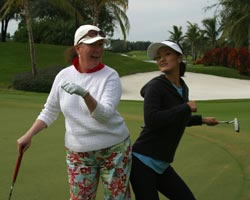 And for all you Grace fans (and really, who isn't one?), be sure to check out this great photo of her (click here!), released to promote her new book.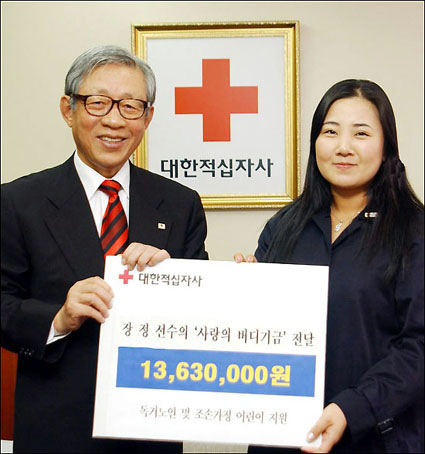 Jeong Jang's 'Birdies for Love'
Jeong Jang has really come into her own on tour since winning the 2005 Women's British Open and signing several lucrative sponsorships shortly after that. One big change has been an increased visibility in doing things for charity. She has recently signed on with Operation Smile to help them publicize their efforts to operate on poor children with facial deformities in third world nations. She also memorably donated money to a Korean War veteran group after her win in Rochester earlier this year.
JJ has also worked in the past with the Korean Red Cross. This year, she decided to launch an initiative called Birdies for Love. For each birdie she made during the season, she pledged 10,000 won to the charity. At the end of the season, she had made 363 birdies. She added 10 million additional won to the pot and contributed 13,630,000 won total (about $13,000), presenting the amount to the Red Cross in a ceremony on Monday, December 4th. I know it's been said before, but: 'Go, JJ, Go!'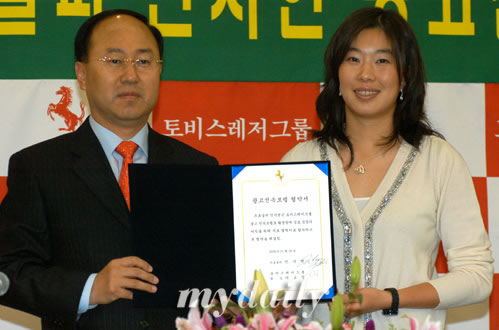 Shi Hyun Ahn: Supermodel?
Shi Hyun Ahn has had a somewhat frustrating season in 2006. When she has been healthy, she has played really well, even contending for Majors. But she has also struggled with injuries much of the year, limiting her playing time.
But regardless of her struggles to stay healthy, her popularity in South Korea remains undiminished. On Monday, November 18th, she appeared at an event at the Imperial Palace Hotel in Seoul, to announce that she had signed a new deal. She will appear in advertisements in Korea for Tovice Leisure Group. Tovice runs a group of resort condos in Korea. This is a one year deal that will net Shi Hyun around 200 million won (that's about $200,000). When the advertisements come out, we'll be sure to reproduce them here!
Click here to see a bunch more photos of Shi Hyun signing this contract!!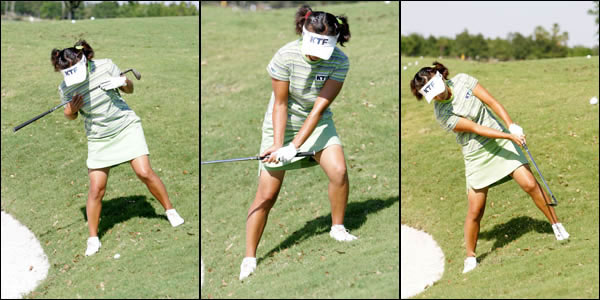 Lesson Time
How great would it be to get a personal golf lesson from one of the Seoul Sisters? Well, you probably can't. But fortunately, they offer advice to their fans all the time in Korean newspapers and golf magazines. In the last month, for instance, Kimmie gave tips about how to handle tricky uphill and downhill lies, while Meena Lee gave everyone a good look at that fabulous swing of hers!
Even more fortunately, you don't have to be able to read Korean to look at these lessons! Just click here to check them out!