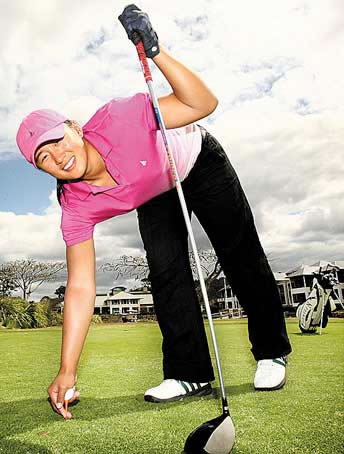 The Dubai Ladies Masters is an event on the Ladies European Tour. It took place this year in Dubai (on the Persian Gulf) from December 13 - 16th. Amy Yang (pictured), the young Korean phenom from down under, was one of the players in this field. Last year, she finished fourth, earning her first paycheck as a professional. A few other Korean players were also invited, notably KLPGA Rookie of the Year Ha Neul Kim. Also in the field were Natalie Gulbis and Annika Sorenstam among others.

After the first round, the leader was Swede Louise Stahle, who shot a record 64 to take a three shot advantage over Laura Davies. Annika was tied for 9th at 2 under. Amy Yang and KLPGA Rookie of the Year Ha Neul Kim both shot 1 under par 71s in round one and were tied for 16th.

In round two, both Amy and Ha Neul shot one over par 73s to land at even par for the event. They easily made the cut, but sat 8 shots out of the lead, tied for 22nd. The other Korean in the field, Hee Jung Kim, also made the cut, although she was at 4 over. The two top Koreans still had a lot of work to do if they wanted to contend for the title.

In round 3, Amy played her best golf yet. She shot a 4 under par 68 and vaulted into the top ten on the leaderboard. The leader at the time was Iben Tinning, and Sorenstam was among those one shot back. The leader's score was 9 under, so Amy was still five shots back.

Meanwhile, the other two Koreans took a step backwards in round three. Ha Neul Kim (below) started the day tied with Amy, but went in the opposite direction, shooting 4 over par instead of Yang's four under. Hee Jung Kim shot a 79.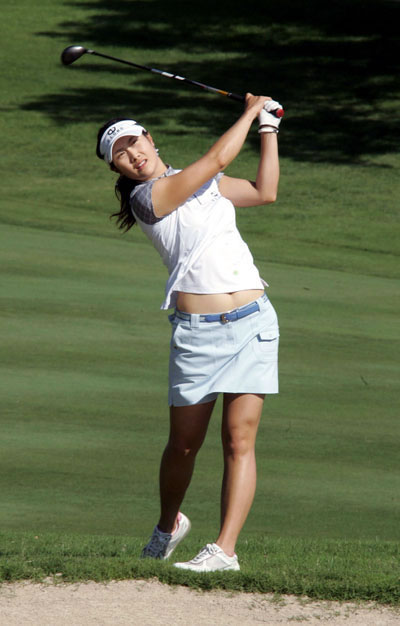 In round four, a familiar name rose to the top of the leaderboard: Annika Sorenstam, who retained her title at this event a second straight year. I believe this was her first win anywhere in 2007.
In 2006, Amy finished fourth at this event. Something about the desert air must agree with her, for this year, she did it again. She shot a 70 in the final round and finished in a big tie for 4th, four shots behind Annika. Regardless of whether she plays in the States or in Europe, I have a feeling she is going to have a great 2008 ahead of her.
Ha Neul also managed an under par round and finished tied for 29th, not bad for her first Euro Tour event (I think). Hee Jung Kim finished at 16 over par tied for 63rd.