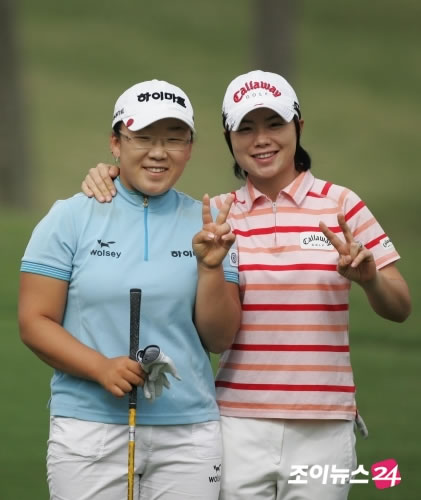 The final event of the 2007 calendar year for the KLPGA was played on the weekend of December 14 - 17th. The Orient Chinese Ladies Open is one of the only KLPGA sanctioned events that takes place outside of Korea, in mainland China. Although this event takes place in 2007, it is not technically part of the 2007 season, as the season ending awards for that tour have already been given out; rather, it is an early start to the 2008 season. What makes all this even more confusing is that this event was part of last year's 2006 season, as it took place the week before that year's season ending ADT-CAPS Championship.
Anyway, one bit of news announced during the week was that Ji Yai Shin and Eun Hee Ji (pictured) would be representing Korea at the 2008 Women's World Cup of Golf in South Africa. Shin was expected to be on that team, but they usually send an LPGA golfer along as the second member, and even though Ji is an LPGA golfer, she really spent most of her time this year on the KLPGA. It may be getting tougher to find a top LPGA golfer who wants to break up her off season to shlep off to South Africa in January, or perhaps Shin expressed a preference to play with her pal and fellow top KLPGA star on that team.
Like last year, this event was co-sponsored by several Asian golf tours, so a fair number of Thai and Chinese golfers were also in the field. This year it was a three day event (last year it was four). In 2006, Ji Yai Shin and the Koreans dominated. Shin won by 8 shots, and the next few golfers on the leaderboard were also Korean. (Ji Yai shot 17 under par, Na Yeon Choi was second at 9 under, Sun Ju Ahn and Bo Mi Suh tied for third at 6 under, and Hee Young Park and Young Ran Jo tied for fifth at 4 under). Many of the top KLPGA stars were again in the field, although Hee Young Park and Na Yeon Choi took a pass. Like last year, the local media was hyping the inclusion of several top Chinese stars, including Na Zhang, who in 2007 became the first Chinese woman golfer to make more than a million dollars in a year (!) thanks to her play on the Japanese LPGA tour. She was clearly itching to take down the Koreans and win this event in her own country. Also in the field were Feng Shanshan, the first Chinese woman to ever gain an LPGA tour card (she will be a rookie next year on tour), and Taiwanese LPGA player Yu Ping Lin. Feng and Na Zhang are pictured below with Ji Yai Shin.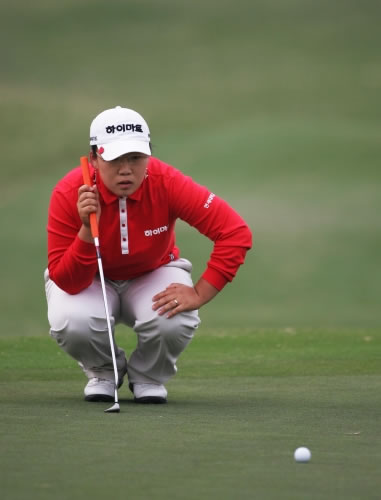 In round one, the morning sessions yielded a fairly unsurprising leaderboard. Ji Yai Shin got out to the lead with a 4 under par 68, and right behind her at 3 under were two notable names: Eun Hee Ji, her fellow World Cupper, and Ya Ni Tseng, the promising Taiwanese teenager who will be a rookie on the LPGA tour in 2008. It would be interesting indeed to see a Taiwanese player win a tournament in Mainland China, but there was still a lot of golf to play, and a lot of great players standing in her way.

In the afternoon, Bo Kyung Kim of the KLPGA produced a 67 to take the overall lead, but Ji Yai and Eun Hee were right where they wanted to be at that point.

One interesting name to watch was Pearl Jin. Although she only shot a 7 over par score in round one, it can be forgiven since she is only 12 years old. Yes, you may recall earlier this year when she and Alexis Thompson met at the US Women's Amateur and became the youngest pairing in the history of that event. In fact, Jin is even younger than Thompson, and Thompson's age "advantage" was enough in their meeting, as Thompson went on to win (!!).

Other notables on the leaderboard included Hyun Hee "Honey" Moon, who was right in the mix at 2 under, and Sun Ju Ahn, at even par.

In round two, Ji Yai Shin flexed her muscles and produced another bit of her magic. She shot a 4 under par 68 for the second straight day, this time consisting of five birdies and a lone bogey (she was bogey free on day one). Her 8 under par total staked her out to a three shot lead. Things were looking good, but she certainly couldn't get too comfortable!

Because, in second place was Taiwanese teen terror Ya Ni Tseng. Tseng was showing the kind of form that might lead to her winning the Rookie of the Year on the LPGA. She was at 5 under and by herself in second. Eun Hee Ji, another strong KLPGA star, was third at 4 under, and Sun Ju Ahn, the KLPGA's #3 player, moved to 3 under and fourth. Talk about a stacked leaderboard! Arguably the four strongest players in the field all at the top.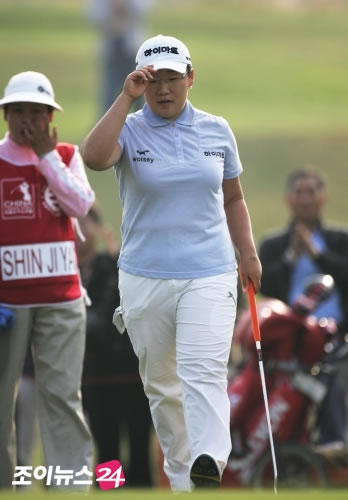 Even among the Chinese golfers, the cream rose to the top. The top Chinese golfer, Na Zhang, was also tops among her countrywomen on the leaderboard, tied for 5th at 2 under. And yes, she was still telling the press that she intended to win, so Ji Yai had to watch herself! Zhang famously made the mistake of telling the press the same thing in 2006, saying she felt that the Chinese golfers could take down the Korean stars in the field, including Shin, who even then was making her name as a true superstar. Shin would go on to win by 8 shots. Zhang was certainly a better golfer in 2007 than 2006, but clearly so was Shin, who had raised herself to being one of the ten best in the world. Would Zhang's challenge cause Shin to once again rise to the top?
Shin is a strong front runner, so the odds were good she would collect another trophy, but all the women a few shots back were capable of going low. An exciting finish to the year looked to be in store!
Going into the final round, Ji Yai Shin had a solid three shot lead, but also had some of the toughest ladies in the field breathing down her neck. To win this one, she knew she was going to have to play well. At stake was even more history for her: her tenth win of the year, an all time record, hung in the balance.
Sun Ju Ahn and Eun Hee Ji have been her chief rivals all season on tour, but neither one was able to mount a serious challenge to her on that day. Ji was only able to shoot an even par round and finished fourth. Ahn did a little better, but her two under par 70 was also not going to be enough. She finished third.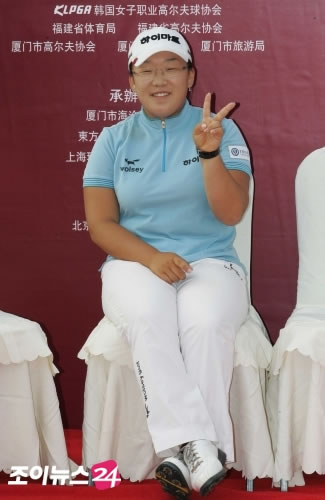 As it turned out, the only golfer who gave Shin a challenge was Taiwanese teen Ya Ni Tseng. Ya Ni and Ji Yai were playing in the final group together, and gave the fans quite a show. Both golfers birdied the first two holes, but Shin bogied the third, reducing her lead to two strokes. She birdied the 6th and 9th holes to move back into a four shot lead over Tseng at the turn. Things were looking good.
But Tseng wasn't out of it yet. Shin bogied the 11th and Tseng birdied the 12th, and the lead was back to two again. Both players birdied 13. But on 14, Shin made another birdie, while Tseng bogied, and from there, Shin put the knife in with a third straight birdie to increase her lead to five, the biggest of the day. Five shots would be the winning margin, as Shin finished at 13 under, Tseng at 8 under. It was a marvelous effort by Tseng, but in the end Shin finished her year in the same way she had spent most of the season: collecting a win. In the process, she shot the best round of the day Saturday and Sunday and the second best of the day on Friday. This was not just a win, it was domination.
So one more time in 2007, we congratulate Ji Yai Shin on a victory. 10 KLPGA wins in one calendar year (although this win counts towards next season), 14 already in her career, and a seemingly limitless future ahead of her. About all you can do anymore is bow down in her direction and say, over and over, "We're not worthy!" Congrats!!