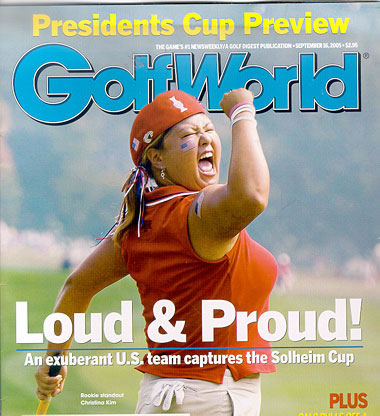 Christina Kim is without a doubt the most successful Korean American professional golfer on the LPGA tour. She has won twice, and at one time she was the youngest woman to ever exceed a million dollars in earnings. With her larger than life personality, she has also attracted a lot of attention. Simply put, there is nobody else quite like Christina.
In 2005, Christina got a chance to live one of her dreams when she played on the American team at the Solheim Cup. The Solheim Cup is the premiere team event in women's golf. Modeled on the men's Ryder Cup, it features a team of top American women golfers going up against a team of top women golfers from Europe. Over the years, the competition has gotten pretty intense. Christina, who never got a chance to play golf in college, was particularly interested in the opportunity to play in a team event. When she finally did go, she was literally the heart and soul of the team. Not only did she compile a fantastic record in the competition (her only loss came to a team that included then world number one Annika Sorenstam), but her incredible enthusiasm and boisterous cheerleading for all her teammates helped to jack up the admittedly partisan crowds even more, boosting the Americans to the victory. It's no accident that Christina was featured on many a golf magazine cover afterwards, and her image and antics were well represented in the commercials leading up to this year's Solheim Cup.
Christina had played in one other noteworthy international team event before the Solheim, when she controversially played for the Korean side at the Pinx Cup, the annual team event that pits the top Korean women golfers against the best from Japan. The Korean media in particular was very critical of this decision, as they felt that Christina, an American through and through, should not be allowed to represent Korea, even though her parents were both from that country. Despite the criticism, Christina came through magnificently. On the second day, the stroke play portion, she shot a 66, the lowest score on either side and one of the few under 70. Christina has shown that, when it comes to team events, she really brings her A game.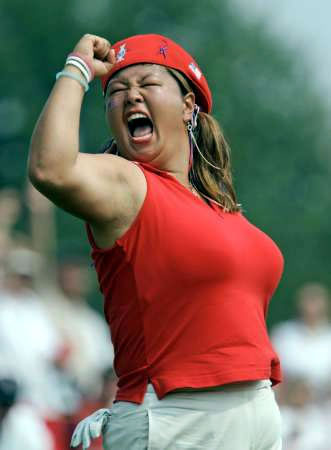 Despite that, however, it was no lock that she would make the 2007 Solheim team. For one thing, she had not played well enough in the two years since the last Cup to get into the top ten in Solheim points. If she were to make the team, she either had to rally in the final few weeks and work her way into the top ten, or else play well enough that she would earn one of Captain Betsy King's two Captain's picks. In any event, it was imperative that she start to impress, and fast. There were several other golfers who could easily have been picked for the team, some of whom had won in 2007.
How Christina got herself into the position of having to rally like this is somewhat of a mystery. In 2006, she had one of her weakest season since joining the LPGA, but in many ways, it looked at the start of the year like it would be her strongest. Determined to move to the next level, she worked extremely hard in the off season, executing an intense workout regimen the likes of which she had never before attempted. The results were amazing, as in just a few months she dropped more than 20 pounds. She had never looked so buff before. But alas, the changes not only did not help her game, they seemed to hurt it. Christina wound up finishing 35th on the money list, not too bad but a definite step down from the way she had played the two previous seasons. She also failed to win an event in 2006, unlike her two previous years. Whether the reason for her problems could be traced to her weight loss or some other reason, she clearly needed to work on her game to get back to where she had been before.
In 2007, she returned to tour looking pretty much like she had in years past; apparently, she had decided that the weight loss was not the right tack. Her results at the start of the year, however, were still not up to her previous standard. She would later say that she was hitting the ball fine, and putting well, but somehow things just weren't happening for her. Time was fast running out if she wanted to qualify for the Solheim Cup team..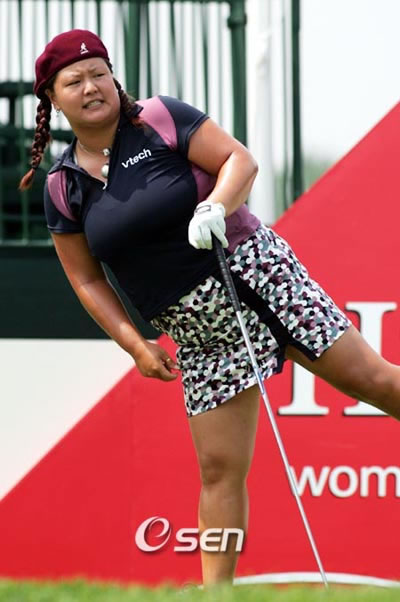 She finally notched her first top ten of the year at the Ginn Tribute in June, a 9th place. But her game really started to fall into place in July at the Jamie Farr Classic, where she finished 21st. From then on, she collected one solid finish after another. She grabbed her second top ten of the year the following week at the HSBC Women's Match Play when she advanced to the third round before losing, in the process defeating Korean superstar Se Ri Pak and American Solheim player Natalie Gulbis. The week after that, she notched a 6th place finish at the Evian Masters. She struggled somewhat at the next two events, although she made the cut both times. And so, she entered the Safeway Classic, the final event before the Solheim team was announced, still on the outside looking in. Even if she won the event she would not gain enough points to qualify, so she had to hope she would play well enough to impress captain Betsy King and co-captain Beth Daniel, both of whom were on hand in Portland to watch all the ladies there who would be vying for those Captain's picks. The competition would probably come down to Christina; former Solheim Cupper Laura Diaz; Meaghan Francella, who had won in 2007 but who had not been too strong of late; Nicole Castrale, who had also won in 2007, but who had been laid low by injuries of late; and Brittany Lang, a strong player in 2006 who did not have a very good 2007. In general, captains have purposely avoided using captain's picks on players who have never played the Cup before, and among the aforementioned players, only Diaz and Christina were not Solheim rookies. Christina admitted she was feeling pretty confident that she would be picked, especially if she played well in Portland. She did everything she could to make sure it happened.
The Safeway Classic, which took place from August 24 - 26th, is an event that has been very good to the Korean golfers over the years. The first ever playoff on tour between Korean golfers took place here, when Mi Hyun Kim outlasted rookie Jeong Jang in 2000 to take the trophy. JJ finished second as well in 2005 and 2006, when she missed a short birdie putt on the final hole to move into a tie with Pat Hurst and a playoff. But the Koreans as a group had their most successful years at the event in 2004 and 2005. In 2004, Hee-Won Han collected her first win since getting married, which was big news in her home country, where she and her professional baseball player husband are quite popular. It was 2005, though, which was the most amazing event for the Korean stars, not only in Portland, but possibly in any event ever. Popular Korean star Soo-Yun Kang won her first ever LPGA event that year, but what made the event truly unforgettable was that Koreans also captured second, third, fourth and a tie for fifth as well. It was the first ever Korean sweep of the top five positions on a leaderboard at an LPGA event.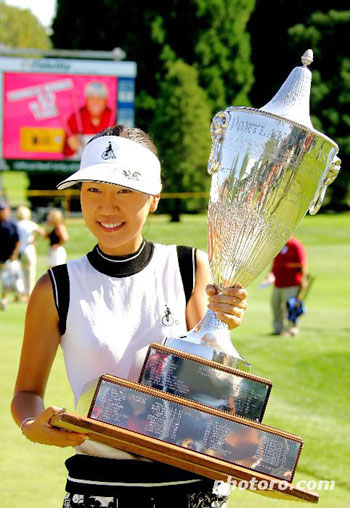 This year, Soo-Yun Kang's great play of late 2005 seems like a thousand years ago; since the start of the 2006 season, she has struggled immensely to even make cuts, let alone win. She has suffered from neck problems during much of that time. Hee-Won Han, the 2004 champ, was not in attendance, still on maternity leave with her first child. And Jee Young Lee, a player who had electrified the crowd in 2006 with her booming drives and first round 64, also had to drop out before the event started due to persistent shoulder trouble. Jang, the previous year's runner up, was also dealing with injuries, only it was her wrists that had the pain. And the 2000 champ, Mi Hyun Kim, was also suffering her share of aches and pains.
But despite all that, there was good news for the Korean ranks. Most of the top Korean rookie stars were in attendance, including top Rookie of the Year prospect Angela Park and her main competitors, In-Kyung Kim, In-Bee Park and Na On Min. Seon Hwa Lee and other top sophomore players were also on hand. And for the first time in several years, Seoul Sister Supreme Se Ri Pak had returned to Portland. Grace Park, who had missed the event in 2006, was also on hand to play.
The weather was good in Portland as the event started Friday. The big surprise of the day came early, when a Korean rookie played a fantastic round to grab the lead. But it was not one of the aforementioned rookie stars who did it; rather, it was a player who had struggled much of the year to even make cuts. 19 year old Ji Young Oh was pretty much of a mystery woman when she earned her tour card at last year's LPGA Q-School. She had played for the Korean national team in 2005, and in 2006 came to the US to train. She played on the Future Collegians World Tour, a second tier amateur league, where she did not often meet the very top golfers in the amateur golf world (though she occasionally did). She dominated on this circuit, winning all six tournaments she played by a huge average margin. But what did this indicate? Was she really as great a prospect as she seemed, or was she just a big fish in a small pond? Well, after she finished in the top ten at both the Futures Tour and LPGA Q Schools, it seemed like she might have quite a rookie year ahead of her in 2007.