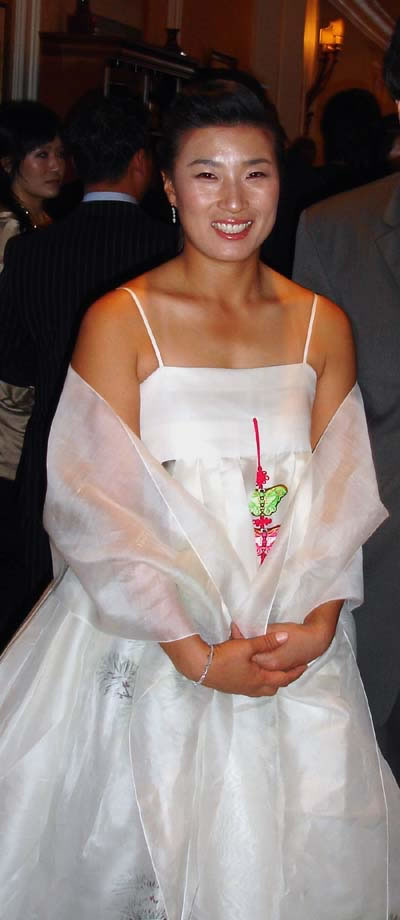 On September 21, 2007, the LPGA threw a party for Se Ri Pak in Orlando, Florida, to celebrate her ascension into the LPGA's Hall of Fame. She will also get another induction in November at the World Golf Hall of Fame. The LPGA Hall of Fame is one of the hardest to get into in all of sports. You qualify on a strict points basis: 27 points are required. Each win on tour is worth a point, while a Major win is worth two points. A Player of the Year award or Vare Trophy is also worth a point. Se Ri managed to accumulate enough points to qualify by 2004, when she won the Michelob Ultra to collect her 27th point. But she also had to play at least ten years on tour to be eligible, and so it was not until her tenth tournament this year, the LPGA Championship, when she officially became eligible.
The party took place at a resort hotel in Orlando. Several of the ballrooms there were decked out for the affair. One entered the party through a long hallway decorated with large blow up photos of Se Ri from various stages of her career. There were also several video monitors that played a continuous slide show of photos of Se Ri's life. Particularly interesting were the numerous photos of her as a child. In one photo, she was a little infant with her mother, and her mother was the spitting image of Se Ri now. It was downright uncanny. There were also several photos of her winning tournaments as a teenager, and a few pictures of her and her sisters back in the days when they lived in Hawaii (just before she started playing golf). One of the photos was clearly taken on Waikiki beach, showing the three Pak sisters standing in one of the outdoor showers near the beach. This would have been in the late eighties/early nineties.
Who was there:
The LPGA invited a large cross section of people who have been important in Se Ri's life through the years. The LPGA was well represented with several important folk including commissioner Carolyn Bivens. The president of the KLPGA was also there. A quorum of LPGA Hall of Famers were also in attendance, notably Karrie Webb, who had been one of Se Ri's greatest rivals through much of her career (Annika Sorenstam, however, was not present). Other Hall of Famers were Beth Daniel, Amy Alcott, and Betty Jameson, one of the founders of the tour. All the Hall of Famers at the party posed for the nice photo below. Left to Right: Daniel, Webb, Se Ri, Jameson and Alcott.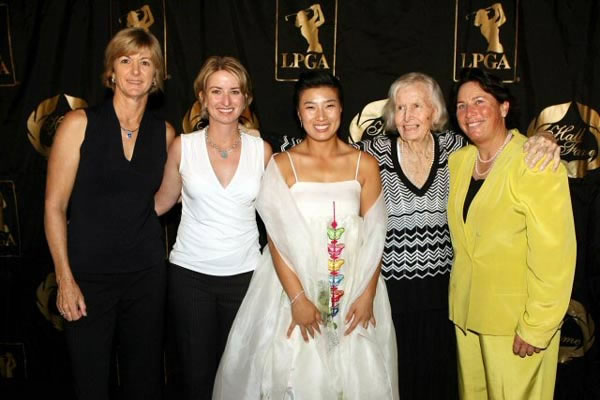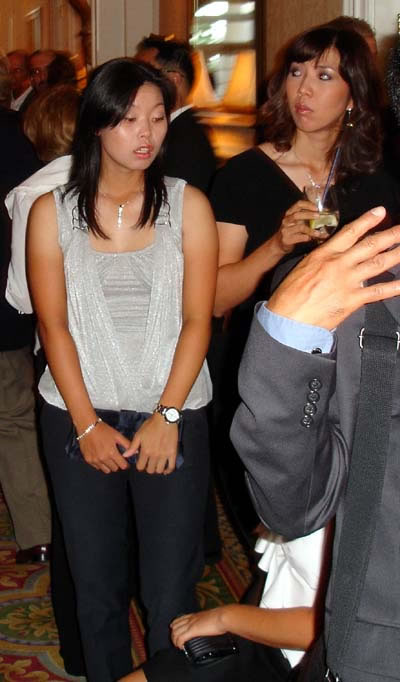 A bunch of other golfers were there, including Se Ri's close friend Lorie Kane, and Meg Mallon, who had been playing in Se Ri's group the day she shot the 61, at the time the all time record for lowest 18 hole score in LPGA history. There were also numerous Korean golfers at the bash, including Se Ri's fellow Orlando based members of the Golf Mania Group, the informal group that places friendly wagers on how they will do at various tournaments throughout the year, with the proceeds going to charity. Those ladies are Seon Hwa Lee, Jee Young Lee, Sarah Lee (pictured right), Sae Hee Son and Sun Young Yoo (pictured left). In addition, Meena Lee, Birdie Kim, Aram Cho, Hye Jung Choi and Jacqueline Yang were there. There were also a couple of ladies that looked very much like Korea or Japan based Korean golfers; I think one of them was Jee Hee Lee, but I am not familiar enough with those golfers to be sure.
Some members of the press were there, including writers for Golf Weekly and Golf Digest, and of course your humble reporter. But I was there primarily because Se Ri also wanted some of her biggest fans in attendance. There was also a camera crew wandering around; the cameras were labeled 'Golf Network' (not Golf Channel), and the camera people seemed vaguely French (at one point later in the evening, the camera woman asked Birdie Kim to come to the camera and say something about Se Ri; 'you can even say it in Korean if you want', she explained).
Then there was Jamie Farr, who was unmistakable even without a dress. Se Ri has pretty much owned his namesake tournament since joining the tour, so it seemed quite appropriate that he was on hand to celebrate her achievement (as he once famously quipped to her: "You own this course. The members are going to start paying you dues!"). And, of course, many members of Se Ri's family were there, including her parents and two sisters. One of her sisters, Yoo Ri (the one who designs her golf clothes), had a foot in a cast. The younger sister, Ae Ri (pictured below), was totally healthy and having a ball. Everyone was nicely dressed in suits and gowns. Se Ri's coach and caddie were also there.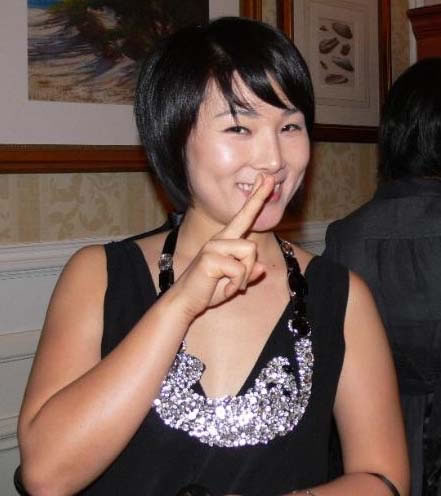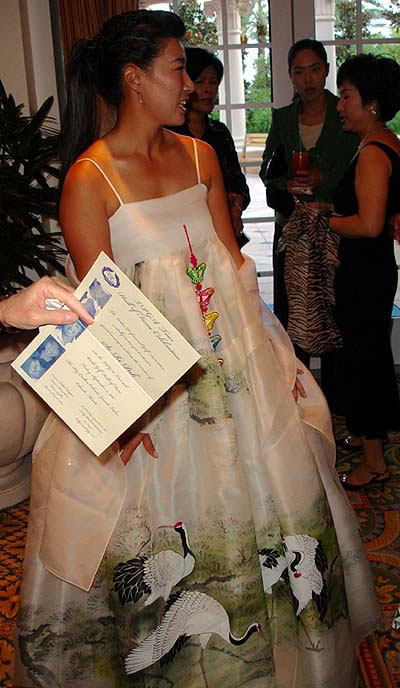 Se Ri herself looked absolutely fabulous in a white gown with gorgeous Asian style swan designs along the fringe and beautiful red slippers that were pretty much invisible under the layers of her dress. She also had a hair extension ponytail which worked wonderfully with the ensemble. The other ladies were also nicely dressed. Particular mention should be made of Karrie Webb and Birdie Kim, both of whom never looked better.
There had been an article in a Korean newspaper written by Seon Hwa Lee, talking about her preparations for this event. She wrote that she was having a hard time finding a formal dress, because she was worried that the dress would expose her golfer's tan either on her ankles or on her top. Well, she did a good job selecting her outfit, because neither tan line was evident. She wore a nice scoop necked black dress with white floral designs on it and looked like a million bucks (which is pretty much what she has made this year on tour!).
Among the golfers notably absent were Sorenstam, Nancy Lopez (who has long been one of Se Ri's best friends and mentors), Christina Kim (a huge Se Ri fan who lives in Orlando), Mi Hyun Kim (a long time acquaintance of Se Ri's who also lives in Orlando), Grace Park, and Hee-Won Han. Mi Hyun Kim was in Korea; she had just played in a tournament there and was appearing on a TV quiz show that week.