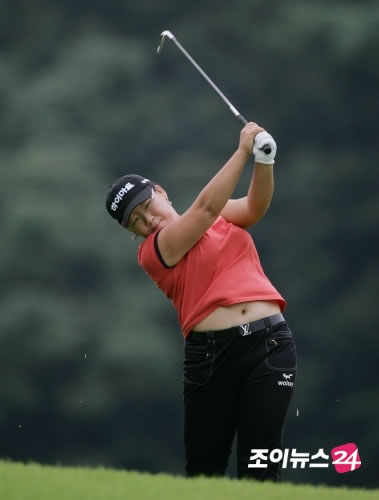 After a break of nearly two months, the KLPGA resumed its schedule on September 6th with the fourth (of five) KB Star tour events of the season. The first part of the season ended with Ji Yai Shin winning three straight events, becoming the first woman in a decade to accomplish that feat on tour. She had a chance to make it four straight, but was unable to win the Korean Golf Art Village Open, finishing tied for fifth. It was her fifth straight event: the week before, she had played in her first US Women's Open, where she finished sixth.

In the intervening months, Shin played several more LPGA events. She lost in the first round at the HSBC World Match Play, and finished tied for 28th at the Women's British Open at St. Andrew's. But she also finished third at the Evian Masters, just one shot out of a playoff for the title. After the British, she took a few weeks off to prepare for her return to action in Korea.

As action finally resumed on tour, guess who happened to take the first round lead? OK, no surprise: it was Ji Yai Shin, the top gun on tour as well as the event's defending champion. Shin shot a 5 under par 67 to take a one shot lead. In second with a 68 was Hee Kyung So, while in third at 69 were the other two KLPGA superstars, Eun Hee Ji and Sun Ju Ahn, as well as tour fave Hyun Hee Moon. Between them, Shin, Ji and Ahn had won all the events on tour in 2007 (except for a co-sanctioned event before the season began). Would they continue the dominance? Would Shin capture her fifth event of the year?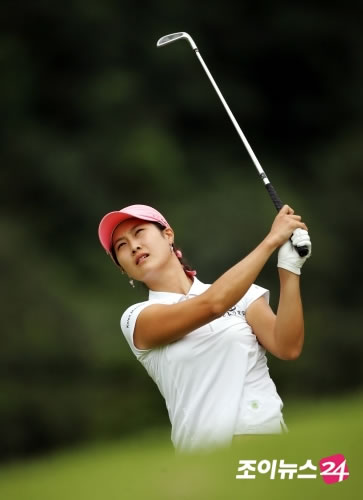 Well, just when you think you've seen it all, something happened on day two that was just completely crazy!
Apparently, they were not able to completely finish round one of this tournament on day one, due to rain. So the remaining golfers played the rest of that round Friday morning. But... there was a problem! Apparently, the boneheads who set up the 17th tee markers on Friday morning accidentally put them 10 yards ahead of where they had been on Thursday. Once the mistake was discovered, a bunch of golfers had already played the hole; they had no choice but to throw out the entire round! That's right: all the results from round one were wiped out!
As a result, several players had their fortunes change. Ha Neul Kim (pictured) went from way back in the field after a poor first round, into first place, thanks to her second round 65, which thanks to the error became her first round. Meanwhile, Ji Yai Shin's second round was a 69, which meant she was reduced from leading to a tie for 6th. Crazy!
It would be understandable if Ji Yai Shin were frustrated. Afer all, she had a nice first round lead and looked primed to take her fifth title of the year when, thanks to a blatant act of stupidity from an official, that round was thrown out. Suddenly she found herself four shots back with only one round to play. Most players would throw in the towel for the week.
But Shin is clearly a cut above the rest, and she came out blazing in the third round. She was not about to let this one get away! She later told the press that she went out on the final day, after the unfortunate wiping of the first round results, determined to get the win. But more than that, she was so confident that she could do it that the Korean press said it was almost cockiness (the best translation for the word in the article would be 'bravado'). Hey, if you'd won four of the last five events on your tour, you'd be feeling a tad confident, too!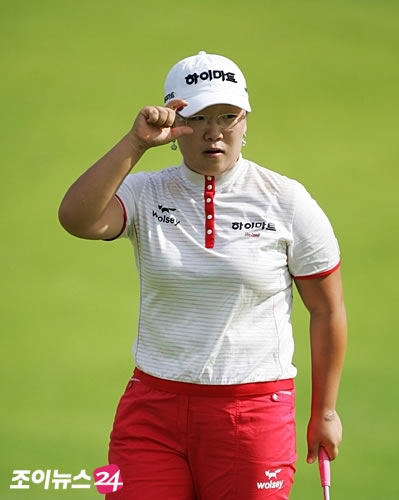 The "leader", Ha Neul Kim, had gotten there thanks to the error, but she struggled mightily in her final round, shooting a 77 to plunge off the leaderboard. Shin, meanwhile, made three straight birdies from holes 5 - 7 to move to 6 under, then birdied 11, 14, 15 and 17 for good measure. She was only able to par the final hole par 5, but by that time she had a two shot lead thanks to her sizzling final round of 65. She had only to wait to see if anyone else could catch her.
The only player who still had a chance was Na Yeon Choi, who had shot a 66 the second day and now was 2 under par on day three, two shots behind Shin. But she could not cash in on the final few holes, and finished second, two shots back. And so, in a refrain familiar to all fans of the KLPGA this year, we once again say: Ji Yai Shin wins! This was her fifth win of the year, and the sky certainly seems to be the limit for the ultra talented teen!
The all time record for most wins in a KLPGA season is held by Korean golf legend Ok Hee Ku. She twice won five events in one season, in 1980 and again in 1982. With her win at this event, Ji Yai tied that record, and thus has won more often on the KLPGA in a year than even Se Ri Pak or Mi Hyun Kim ever managed.
If she were to win even one more time in 2007, she would set a new standard for excellence! After the tournament, she told the press that she is hoping to keep adding wins this year, to step by step increase this record. So everyone wondered if she could do it again!