2003 CJ 9 Bridges Classic: Shi Devil
Pages 1, 2, 3, 4, 5, 6, 7, Results
Ahn wasted no time making her presence felt. Right on the first day, she shot a 7 under par 65 to tie Se Ri Pak's course and tournament record from the previous year. This was good enough to give her the lead, but she had no reason to feel particularly safe. For one shot behind her, at 6 under par, was Grace Park, a four time LPGA winner who was certainly overdue for another win in 2003. Among the other Korean superstars who were within four shots of Ahn were Se Ri Pak and Soo Yun Kang, both sitting in 6th place after 69s, and Mi Hyun Kim, who had shot a 68 on day one and had plenty of motivation to win, having had a pretty bad year by her normally fantastic standards. Besides Ahn leading, the biggest surprise after day one might have been Michelle Wie, who shot a miserable 13 over par 85 that found her sitting in dead last place, six shots behind the next nearest player and 20 shots already behind Ahn. Aree Song did not do much better, a 6 over par 78 shunting her into a tie for 62nd with another big name, Hee-Won Han.

Ahn's 65 had been slow in developing. On the front nine she played solid but unspectacular golf, notching only a single birdie against eight pars. But starting with hole #10, she caught fire, birdieing four straight holes, then parring 14, then birdieing 15 as well. Just like that she was at six under par. And she wasn't done yet, getting a birdie on the par 5 18th for good measure to tie the course record.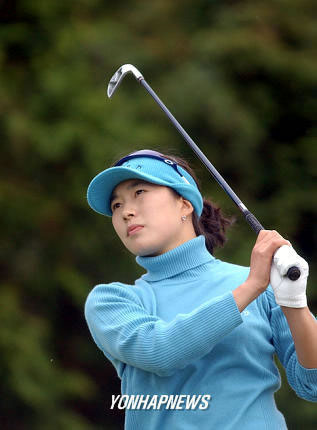 Shi Hyun Ahn in round 1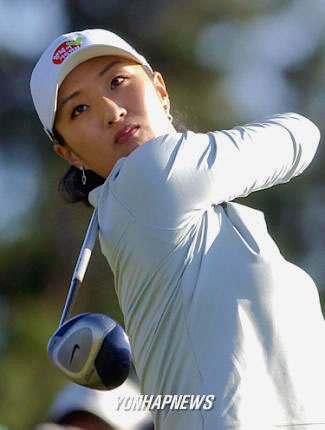 Grace drives it in round 2. After round 1,
she was in second place.
The biggest challenge to Shi Hyun would be repeating what she had just done. On Friday afternoon, she was a little known rookie. On Saturday afternoon, she had become a marked woman, with some of the biggest names not just in women's golf, but in her country's sports consciousness, breathing down her neck. But as she admitted in her press conference after Friday's round, she usually plays her worst on the first day. So she had a little confidence that things could get even better.

On Saturday, Shi Hyun got to play with LPGA superstar Grace Park and Scottish player Catriona Matthew. Based on the overall scores, the conditions seemed to be a trifle harder on Saturday than on Friday, although still reams easier than the blizzard the women had had to deal with at this event last year on Saturday. There were a few players who played well, such as Ahn's KLPGA compatriot Mi Na Lee, who shot a 68, or Lorena Ochoa, who had the low score of the day, a 67. But most of the top players were shooting around par or slightly below. Ahn was no different. She started strong, with two birdies in the first three holes to move to 9 under par and a big lead. But just as quickly, she bogeyed the 4th hole, and followed that up with a long string of pars. Fortunately for her, no one was pressing at her heels very hard. Grace was having her typical letdown after a great round, with two bogeys and a double bogey in her first six holes. She righted the ship on the back nine, however, and finished only one over par for the day. Meanwhile, Se Ri Pak played steady golf, ending up with a two under par 70 that moved her up to 5 under for the tournament. And Catriona Matthew was not able to do better than par. So it was up to Ahn to see if she could play well enough to maintain or even increase her lead.
And that's just what she did. After nine straight pars, she finally broke through with a birdie on hole 14. She sat at 9 under and had a chance to put a huge cushion between herself and the rest of the field. But on the 16th hole, disaster struck: a double bogey that might have been enough to shake her confidence. Give her credit, though: she did not falter, and followed that with a birdie on 18 to shoot an overall one under par 71. Not great, but enough to give her a three shot lead going into the last round.
Later, she admitted that she had never had a lead going into the final round, and didn't know what to expect. She also admitted that she had never played with Se Ri Pak before, but that was about to change: for Se Ri's 2 under 70 was good enough to position her in second place, three shots behind Ahn. As if it weren't pressure enough to play with the legendary Pak in front of a gallery that would be rooting her on every step of the way, Ahn also had to contend with 60+ time winner Laura Davies. Two long, strong veterans in her group, and Grace Park still within striking distance: it would not be a picnic.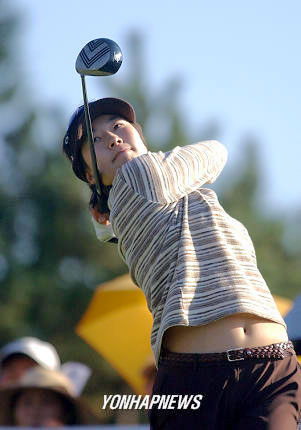 Shi Hyun Ahn and her unusual swing