2003 CJ 9 Bridges Classic: Shi Devil
Pages 1, 2, 3, 4, 5, 6, 7, Results
Ahn did not make her birdie, however, and Grace Park just missed an eagle putt on 18, but still moved to 9 under with the tap in. So Ahn still had only a one shot lead with one hole to go. That hole was an interesting one. The 18th is a 495 yard par 5 with a split fairway. If you go left you can cut some distance off the hole, but you also have to carry a sizable wilderness area. In 2002, only the longest hitters dared flirt with it due to the extreme wind, but in 2003, most of the players in the field felt comfortable giving it a shot. If you go right, you have to deal with the full distance, and in all likelihood, a three shot hole. The second shot is over water to a small green, so by no means was it impossible to get a big number. In fact, Jeong Jang had done just that by hitting it into a greenside bunker and not getting it very far out. She would go on to bogey the hole.
Se Ri did her part by hitting a spectacular, long drive that wowed the crowd. But Se Ri would need a bit of a miracle to win at this point. Probably an eagle coupled with a mistake from Ahn. Davies, too, hit a great drive. Ahn stepped up and hit it straight and true, to the left fairway, no thought of laying it up.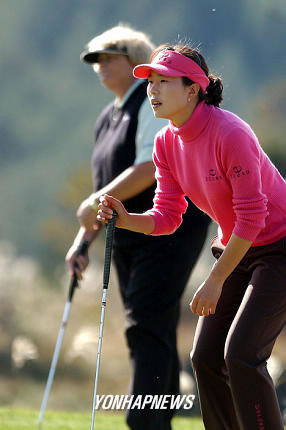 Shi Hyun lines up a putt while Laura Davies waits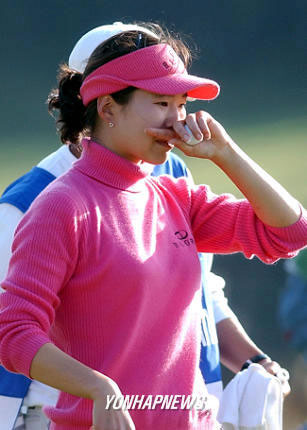 When it was all over, she cried for joy
Ahn wound up twenty yards short of Se Ri, so she hit first. This was really the entire week in one shot. A good shot here and Se Ri had no chance. A bad shot opened the door. Ahn delivered, hitting a phenomenal shot from 175 yards that landed only two feet to the left of the hole, then rolled to 5 feet past. Short of dunking it in the hole from the fairway, Se Ri was probably through. Ahn had saved her best for last, and it was truly spectacular.
Needless to say, Se Ri did not hit a shot as great as Ahn's, but she still gave herself a fifteen foot eagle try. But like Grace before her, she just missed, and tapped in the birdie. So all that was left was for Ahn to putt. And she did so with authority, burying the eagle and winning her first ever LPGA event by three shots, the same leading margin she had started the day with.

After that came the emotion. Ahn broke down while hugging her caddie, but shortly thereafter, she started smiling, and she hasn't stopped since. The Cinderella story had come true, and she did not have to give it all up at midnight. A two year exemption onto the LPGA tour, becoming yet another Korean Rookie on the 2004 tour (albeit non-exempt in 2004, exempt in 2005). A check for $187,500 (although a humorous photo shows her holding up a big check for $225,000! Who blew that one, I wonder?). And a media frenzy as her great smile and attitude made her the latest in a long line of Korean golf sweethearts.
Who knows what the future holds out for Shi Hyun Ahn. We may have seen the best week of her life. Or, she could become another of the Korean greats to splash down onto the American tour. But whatever happens, for now she is the Cinderella story of 2003. Only she earned her Happy Ending by beating the best at what they do best. Congratulations to her!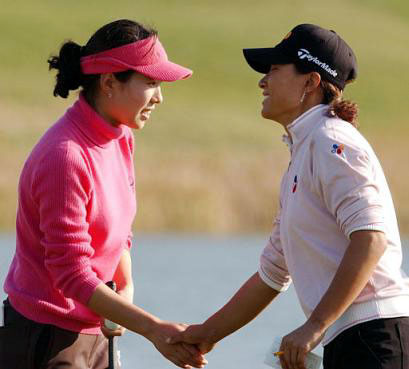 Se Ri congratulates Shi Hyun on a great tournament