OK, so none of the Big Four were able to get the job done; perhaps one of the lesser known Korean players could rise to the occasion? Oh, were it only so! But I'm telling you, someone spiked their Shinzen Green this week, because it seemed like none of them were able to do what they are usually capable of, particularly in the first round. Christina Kim struggled to her second missed cut in as many weeks. Young Kim started terribly, but recovered to a 24th place finish. Gloria Park, who has not done much all year, looked on the trail to another finish in the 50s or 60s until she shot an impressive 66 on Sunday to vault up into a tie for 14th. Soo Yun Kang was coming off a missed cut, and though she played solidly, she never had that one great round that would have put her name in the papers. She settled for a solid 28th. Minny Yeo started well for her, but collapsed on the weekend, although her 74th place finish marks her first made cut this year.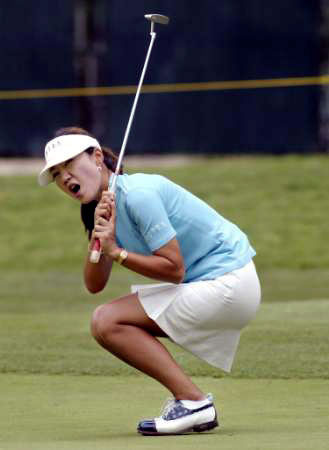 Soo Yun misses. It was that kind of week for the Sisters
Reuters/Tami Chappell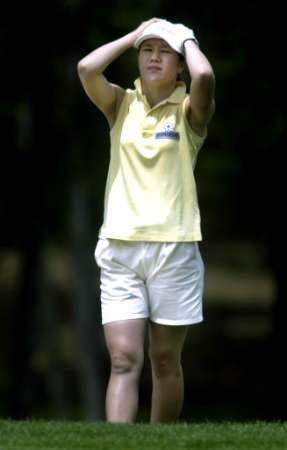 'Oh vey!' Young Kim had her troubles, too...
Well, it's easy to get spoiled when you are a fan of these ladies. They work so hard, and have so much success. But everyone has their off day, and though it is odd they all chose to do it in the same week, you can bet that it won't be too long before we will be celebrating another awesome performance by one or more of them again! When once again we will watch one of them hoist a trophy, and we will be tempted to say, 'It's good!'