Cutting Comments
A lot of interesting stats revolve around the cut this week. Mi Hyun Kim, as mentioned before, made her 52nd straight cut this week. But in case you're wondering how close she is to setting an LPGA record, let me tell you, not close. Jane Blaylock never missed a cut in her entire fourteen year career. If Mi Hyun wants to equal that record, she'd have to keep making the cut for at least the next ten years, and probably longer. Needless to say, I'm not going to be updating her progress towards that one on a regular basis!
Meanwhile, after making her first six cuts, Christina Kim has missed her last two. Ever since that final hole meltdown at the Chick-Fil-A, where she shot a 9 on the par 5 to knock herself out of a top ten finish, she has not played very well. But young players tend to have consistency issues, so she'll be back again before too long.
And, making her first LPGA cut this year is Minny Yeo. It wasn't a great finish, but a made cut is a made cut. Congratulations!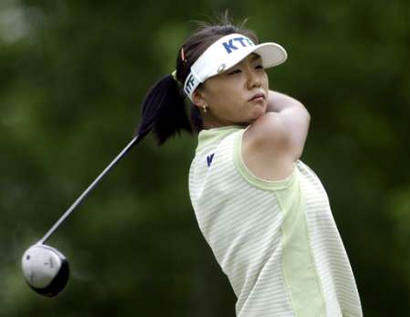 Peanut drives in round 4
Reuters/Tami Chappell
Seoul Sisters and the media!
I always like getting a little press! Well, Mark Piras of the Beaufort Gazette (a local paper that covered this week's event), was assigned the enviable task of interviewing all three of the Seoul Sisters. He was a bit worried that some of them would not speak English, and in general wanted to find out more about them. SeoulSisters.com to the rescue! After checking out my site, he got the background he needed to do his interviews. Mark sent me an e-mail and confirmed that the ladies are just as nice as their reputations (and my constant praise) would indicate. This was quite a contrast to the PGA players he had interviewed in the past, all of whom seemed barely willing to put up with the whole process. He was also quite complimentary about the site in the e-mail, which always is nice to hear, you know!
Check out this article about the Asahi, where he refers to the ladies as the Seoul Sisters!
http://www.beaufortgazette.com/sports/columns/mark_piras/story/2533804p-2353145c.html