Fortunately, Se Ri hit a superlative tee shot on 17 to within just a few feet. If she just made birdie she could stroll, laughing, into the clubhouse. Alas, the putt brushed by the hole. She made the par, but it still wasn't over.
On 18, however, Inkster was not able to make birdie, finishing at 7 under. Se Ri was still at 9 under. The final drive is over water and can be hard, but again, Se Ri hit a great one and was in good shape. Her approach got her to the fringe next to the green, but on the right level. All she needed was par and she'd probably be all right.
But Ochoa wasn't dead yet, either. She hit a great shot herself on 17 and made the birdie, and now stood at 7 under herself. If she birdied 18, Se Ri had to make par to keep her at bay. To complicate things further, Se Ri hit a so so putt from the fringe that left her four feet short.
But Se Ri Pak did not get to the cusp of the Hall of Fame because she misses opportunities like this one. Anyone who knows this player knows that within her beats the heart of a champion. And so, she coolly lined up the putt, and with little fuss, drained it. Now, unless Ochoa dunked her fairway shot, Se Ri had her 22nd win.
Needless to say, Ochoa did not make that unlikely eagle, and so a triumphant Se Ri won perhaps her most significant victory of all. At the age of 26 years and 7 months, she became the second youngest player in history to qualify for the tour's Hall of Fame, though she will not be inducted until 2007. And best of all, she accomplished this win on Mother's Day, with her mother in attendance to see it all.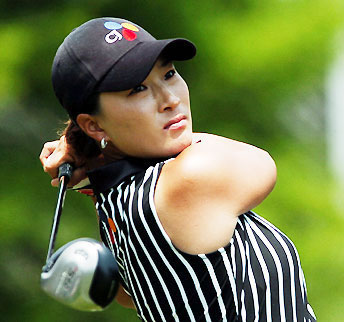 Se Ri likes to wear black and white
on Sunday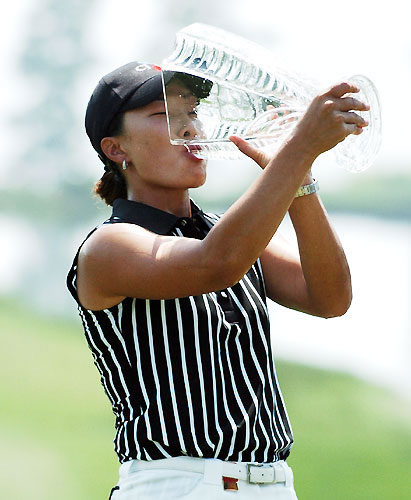 Se Ri takes a victory drink

After getting her trophy, Se Ri took a big swig of beer from it for the cameras. They kept filling it up for more photo ops, and I can only hope she was able to walk a straight line when it was all done! Then her great friend Lorie Kane came out to the green to douse the new Hall of Famer in beer (normally the tradition calls for champagne, but not at a tournament sponsored by a beer company!).
Se Ri later called May 9th "the happiest day of her life". Her great, seemingly impossible goal had at last been achieved. And she did it by fashioning two awe inspiring rounds of brilliance just like the Se Ri of old. She also admitted that she was glad to have the pressure of getting into the Hall off her back. One can only wonder what may happen later this year if Se Ri, with her new found consistency, and with the HOF pressure off, is now able to call upon her A game more often. Perhaps her other great goal, to be number one, might not be that far away.