Holiday Winner!
Se Ri has quite a knack for winning events taking place during holidays. A few years ago, she won the ShopRite LPGA Championship on Father's Day, and gladly presented the trophy to her dad as a gift (he was following her that day and got to watch his daughter win). She matched that feat by winning the Michelob Ultra this year on Mother's Day, giving her mom a trophy to match the one her dad has. Se Ri has also pulled off wins on the Fourth of July (the Jamie Farr in 1999 ended on that day), and on Labor Day weekend (The 2002 Betsy King Classic). Good thing for the tour they don't play during the Thanksgiving and Christmas holiday season!
Not Bad for a Beginner
Congrats to the young guns who played well this week. Christina Kim is still only 20, and for a while looked well positioned for her first win. She stumbled badly on Sunday, but still got a 16th place finish. 19 year old Shi Hyun Ahn also finished tied for 16th, while rookie Seol-An Jeon continued her impressive bid for Rookie of the Year with a 16th place finish herself. And of course, 14 year old Michelle Wie once again distinguished herself with a tie for 12th. Good job, ladies!
She Can Order Dinner
Soo Yun Kang made quite an impression on the Virginia fans this week, what with her brilliant play in the first two rounds and her usual stylish accouterment. But she also revealed one of the first things she learned how to do when she came over to this country: how to order food in English! Soo Yun was asked if she was able to go into restaurants when she first arrived in the States and order food. She replied, "Yeah, I can order because important for that!" She later mentioned that her mom was with her this week, and when asked what her mom might have said to give her support this week, she replied "She makes food!" Soo Yun certainly has her priorities in order!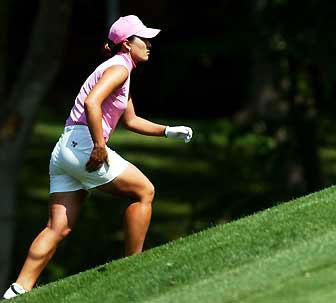 Se Ri braved the hills at Kingsmill for her
first win of 2004
Mi Hyun's a real Top Tenner
Mi Hyun Kim managed once again to notch a top ten this week, a 6th place finish. This marks her 6th top ten already in 2004. To put this in perspective, Mi Hyun had only 5 top tens in all of 2003. She's well on her way to her best season yet.
Meanwhile, Hee-Won Han at last got her first top ten of the season, a tie for 4th. This vaulted her into the top 20 on the money list, and perhaps shows that she is breaking out of the slump she has been in since last September.