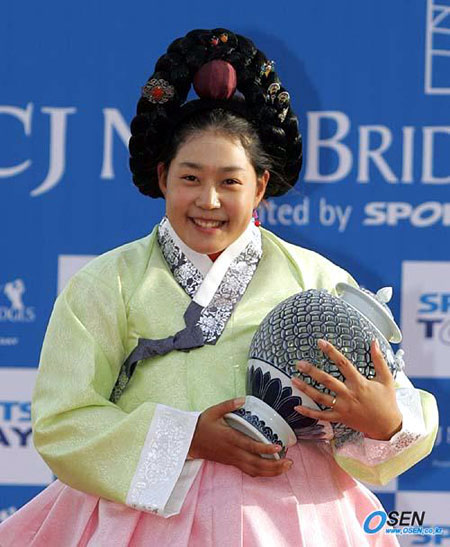 2006 has been a strong Rookie class for the Korean women golfers on the LPGA. The golfer getting the lion's share of attention up to this has point has been Seon Hwa Lee, and deservedly so. Coming off 2005, where she was the top golfer on the Futures Tour, she has been dominating the LPGA's Rookie of the Year standings pretty much from the opening tee off in 2006. She is the only rookie in 2006 to have won a tournament. But she is not the only rookie to have ever won a tournament. In fact, there is one rookie on tour who won an LPGA event even before she joined the tour, receiving her LPGA card as a result of that victory. And though she was overshadowed by Lee earlier in the year, this rookie has been increasingly high profile of late, producing three consecutive great finishes on tour to let everyone know that there is more than one rookie named Lee on tour who should be noticed. The rookie we are talking about is Jee Young Lee.
Jee Young is somewhat of an unformed prodigy. Whereas Seon Hwa Lee has been playing golf since she was seven years old, and has been a pro since the tender age of fourteen, Jee Young came to golf much more recently. She started playing golf at the age of 13. But she did not have the distinguished amateur career in Korea that many of her fellow players over there had. She was somewhat of a mystery when she turned professional in 2004 and joined the KLPGA. But it would not take her long to make a name for herself there.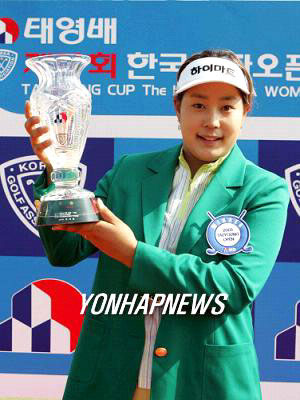 What Jee Young lacked in experience and polish, she more than made up for in sheer athletic ability. Simply put, Jee Young pounds the snot out of the ball. She is not super accurate off the tee at times, but when you can hit a 3 wood 280 yards, sometimes you don't need to be. Most of her challengers on the KLPGA play a similar game: they hit the ball short, but are relatively accurate. Jee Young is definitely not the typical Korean golfer. But if all she could do is hit the ball a long way, she would not have gotten very far. She also is very adept on the putting green, and has a good mentality for the game. And best of all, she seems to improve very quickly. The possibilities seemed limitless for her as she set out on her pro career, but she was still very much an unknown factor when she started her rookie year in Korea in 2005.
Just a few months in, though, everyone knew who she was. In her first year, she won one of the most prestigious events on the KLPGA tour, the Korean Women's Open. This event always attracts a bevy of top golfing talent besides the KLPGA stars who play it, and 2005 was no exception. The hyped guest star was 2004 LPGA Rookie of the Year Shi Hyun Ahn, a very popular player in Korea. Coincidentally, Shi Hyun had gotten her LPGA tour card the same way as Jee Young Lee would in a few short months… but we are getting ahead of ourselves. Shi Hyun was paired with the KLPGA's top player, Bo Bae Song. But it was Jee Young Lee who ended up taking the trophy, and a new star was born.
Or so it seemed at first, but despite winning this important event, Jee Young did not immediately become one of the top golfers on tour. She was overshadowed in her rookie year by two other rookie sensations, Hee Young Park and Na Yeon Choi, both of whom were much more consistent than Lee. Given that Jee Young really didn't have a lot of experience, it wasn't so surprising that she was less than consistent. But those who might have been ready to write her off were in for more surprises before the year would end.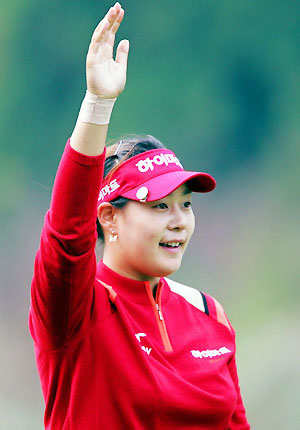 Other than the Korean Women's Open, the most significant event on the KLPGA tour every year is probably the CJ 9 Bridges Classic. Not only is this the biggest money event the women play all year, it also offers a golden ticket of sorts to the winner: a free two year membership on the LPGA tour. Shi Hyun Ahn, whom we previously mentioned, had in fact won that jackpot when she emerged victorious at the 2003 CJ. This in turn allowed her to join the LPGA, where she became a top twenty golfer and 2004 Rookie of the Year. She also became hugely popular in Korea, earning the nickname 'Cinderella' owing to the way her life had changed literally overnight thanks to the victory. Ever since, KLPGA players have looked to this event with great interest, hoping they, too, could become a Cinderella and join the tour. But except for Ahn, no KLPGA golfer had managed the feat of beating the world's best at this tournament.
In 2005, Jee Young was one of the top 12 golfers on the KLPGA tour, and so was invited to play CJ. It didn't take her long to make an impression, and this time it was the international fans who were stunned by the play of this golfer almost none of them had heard of before. She played on Friday morning in the second group off the tenth tee, paired with none other than the leading rookie on her tour, Hee Young Park. The conditions were rough, and they would get worse. Right from the get go, Lee went on a tear. She birdied holes 12 through 15 and 17 and 18 as well, to go out in a six under par 30. She wound up with a 7 under par 65, which was well ahead of anyone else in the morning wave. Indeed, the only player who even stayed in her ballpark was Hee Young, who shot a 3 under par 69 herself. As the day went on, her score looked more and more impressive. Even stars like Annika Sorenstam and Hee-Won Han were only able to shoot 75s. The only afternoon players who were able to get a bead on Lee were British Open champ Jeong Jang and Carin Koch, who shot 67s. So after day one, the unknown, big hitting Korean rookie was the leader. This was the same exact position and score Shi Hyun Ahn had found herself in after her first round in 2003. Was this fate?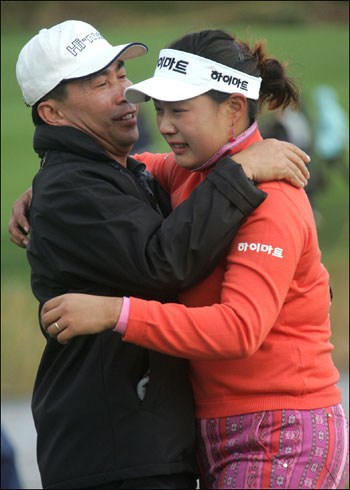 Perhaps it was, for Lee continued her torrid play on day two. The weather was, if anything, even worse on this day than the previous one, but Lee persevered. By the time she reached the 12th hole, she was 11 under par and had an almost unimaginable 8 shot lead over the field. Keep in mind that this was not a KLPGA field, this was a field that included Annika Sorenstam, Paula Creamer, and dozens of top Korean and international stars. But then Jee Young came back to Earth and started making mistakes. She double bogied the 14th hole after a sloppy bogey putt, then bogied 16 to fall to 8 under. On 18, she struggled mightily, winding up with another double bogey to fall to 6 under total. The lead was still hers, but where once it had been 8 shots, now it was only 3. That night, she had a lot of trouble sleeping, for she knew what was at stake. She got to the first tee on Sunday tired and scared. The weather was cold and windy, just as it had been all week. And she would be teamed with two big Korean stars, Jeong Jang and Mi Hyun Kim, both of whom were adept at playing in tough conditions. She was in for the test of her life.
And Lee passed with flying colors. At one point on the back nine, she had a five shot lead. Though she struggled a bit after that, she seemed in control much of the time. Pressured by Mi Hyun much of the day, Lee made the important par and bogey saves when she needed to, and won the tournament by three shots. In so doing, she earned membership on the LPGA tour for two years, plus the right to play at the Tournament of Champions just a few weeks in the future. Perhaps Jee Young knew something the rest of us didn't: unlike when Shi Hyun Ahn won CJ in 2003, Lee had already prepared all her documents for playing overseas even before the CJ. Thus, she was simply able to travel there and play without any red tape (Shi Hyun had required special government assistance to acquire all the permissions in time). How did she know she would need it?
As 2006 arrived, Jee Young came over to play full time in America. By and large, she was fairly successful in her first few months as a rookie. She wasn't making any top tens, but neither was she missing many cuts (she missed only one cut early in 2006, and that was at her second tournament). And she was occasionally getting close to the top ten, with a tie for 15th in Mexico, a tie for 13th at the Takefuji Classic, and a tie for 16th at the Florida's Natural Charity Championship. In May, she made her first top ten, a tie for 10th at the Michelob Ultra. Clearly, she was becoming more comfortable on tour.
At the McDonald's LPGA Championship, she took another step forward. She had only managed a 56th place finish at the year's first Major, but at the McDonald's, she finished tied for 14th. At the next Major, the US Women's Open, she did even better. Faced with treacherous conditions that made the course play far longer than its already imposing length, the long bomber held her own with many of the top golfers in the world. As she had shown at CJ, she is able to play even tough courses in bad conditions well. She finished tied for tenth, and moved into the top thirty on the money list.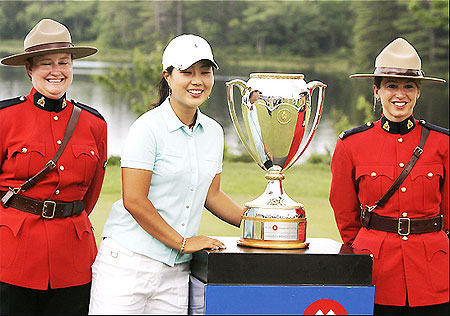 After the year's final Major, where she achieved another good finish (22nd), she next played the Canadian Women's Open. It was here that Jee Young took another big step forward in her development. The LPGA's annual Canadian stop was once upon a time the year's fourth Major. But then the Canadian government made it illegal for cigarette companies to sponsor sporting events, and since the event was sponsored by tobacco company Du Maurier, that put the entire tournament in jeopardy. Though they eventually found another sponsor, it was too late to save the Major status of the event, and the Women's British Open replaced it as the new fourth Major. The Canadian Open, as the Du Maurier was now known, continued to struggle, and it seemed each year fewer top players made the trek to play there. Last year, only a few of the top twenty players on tour showed up in Nova Scotia to play. It was a great week for the Koreans, as Meena Lee finally won her first event after several second place finishes. But soon afterwards, the event lost its sponsor, and once again, its very existence was in peril.
Fortunately, CN, the Canadian railroad company, stepped forward and took up the sponsorship, and the event was saved. And now, it does seem to be on the road back to prominence. The 2006 edition, which was contested in London, Ontario, had far more top players than the 2005 edition had attracted. It was still not the kind of field the Major used to draw, but there were signs that the trend was heading in the right direction.