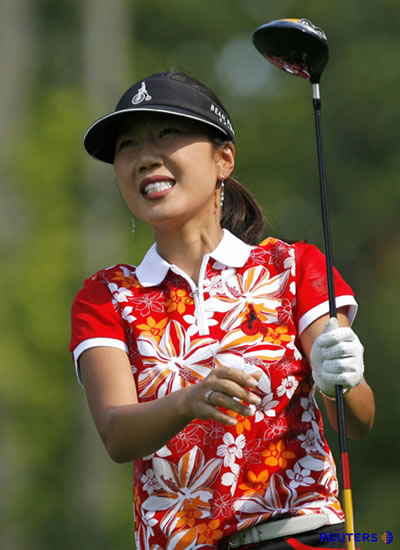 Meanwhile, several other top Koreans either were not at the event, or surprisingly struggled. Hee-Won Han, the 2003 champion who also finished second in 2002 and 2004, decided to play an event in Korea the same week. Meena Lee and Christina Kim also played that same event. Mi Hyun Kim, the 2002 champion, had been playing well in 2006, but on day one shot a horrendous 3 over par 75. Kimmie, it turns out, has been struggling lately with injuries, and was forced to drop out of the event after the first round. Jane Park was given a sponsor's exemption to make this her first LPGA event as a pro. But she struggled mightily, shooting a 77 on day one and an 81 on day two. She finished second to last in the field and missed the cut by a mile. One would think, based on her great record as an amateur and recent top ten at the US Women's Open, that she will not have too many more weeks like that in her professional career.
A few other Korean golfers did well, however. Perhaps no one's results were more surprising (or more welcome) than Soo-Yun Kang's. Kangsy had just the week before played horrendously in defense of her title at the Safeway Classic. In 2005, she had come to Wendy's the week after her win and, for three rounds, been in contention to win here before struggling a bit on Sunday and finishing 6th. So it was clear she liked this course. Still, she had played so poorly in 2006 that little was expected of her at Wendy's this year. So it was a complete surprise when she shot a 5 under par 67 in round one, her best round of the season. Even more impressive, she was flawless, shooting five birdies and no bogies on the day. At Safeway, she had said that she was starting to feel very confident about her game again; perhaps that great play just happened a week later than she had anticipated when she said that.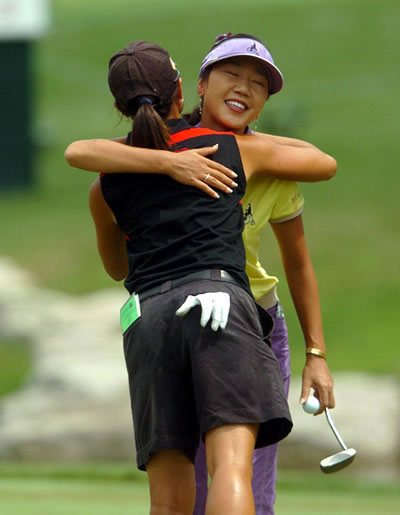 In round two, Jee Young stayed hot. She started her day with a birdie and a bogey, but followed that with a birdie on 7 and her second eagle of the week on the ninth hole to go out in 3 under par. She continued her torrid pace with birdies on 10, 11 and 13, then cooled down before a final hole bogey to finish with a 5 under par 67 and an 11 under par total. This would leave her tied for the lead after the day ended. And the player she wound up tied with? None other than Soo-Yun Kang! Kangsy was not done surprising everyone, and followed up her best round of the year with an even better round on Friday. She produced a 6 under par 66 that once again featured not even a single bogey on her card. She was now the only player who, through two rounds, had not made a single bogey. The two would be paired together on Saturday, the second time in three tournaments that Jee Young was in the final group on Saturday (and she would have been at the Safeway as well, had they repaired their groups on day two). It made for an interesting combo: Kangsy, the wily veteran, at 30 one of the oldest of the Korean women on tour, and Jee Young, the raw rookie, who at 20 was one of the youngest and least experienced.
On Saturday, however, both ladies got off to a poor start. Jee Young struggled on the third hole, where she made a double bogey to fall to 9 under. Soo-Yun, meanwhile, seemed unable to secure a birdie: she made nothing but pars on the front nine. She even failed to make a birdie on the par 5 9th hole, where she would make birdie on every other day. While they were struggling, Mexican superstar Lorena Ochoa took advantage. Ochoa started the day at 9 under, but had four birdies on the front nine to move into the lead. But Jee Young recovered nicely from her mistake on three to join in the battle for the top spot. She made birdies on 4 and 9 to return to 11 under par. By this point she was two shots down to Ochoa, but still well in the fight for the title.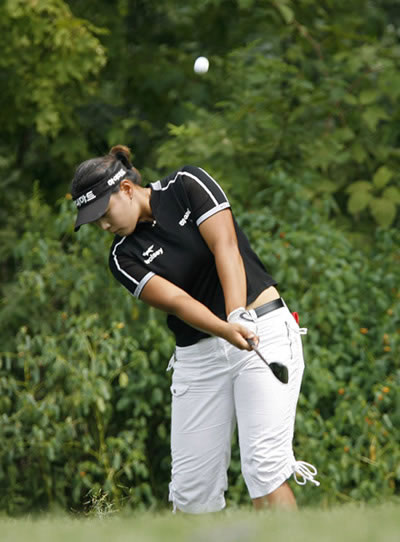 On the par 5 11th, Kangsy once again failed to make birdie on this hole, although she made birdie on it every other day. She was doubtless getting frustrated by her lack of success on this day, but she was still near the lead, easily having the best event of the year for her. Jee Young birdied that hole to move under par for the round for the first time all day. The 12th hole finally ended Kang's run of pars; unfortunately, it ended it in the wrong direction. Soo-Yun hit a perfect drive on this hole, but alas got one of those bad breaks that sometimes happens: her ball wound up in the back of a divot, and at a bad downhill angle. She had an approach that had to carry a water hazard to reach the green. She hit her shot, but it did not have enough juice to make the green, and wound up embedding in some rocks near the green. The big question was, did she in fact fly over fair territory before ending up there? The hazard line was unusual in this area: there was a little loop of fair ground that jutted out between where Kang had hit her shot and where it had ended up. If her ball had passed over this area, she was allowed to drop it there. If not, she had to hit her shot from back in the fairway. To be honest, it was nearly impossible to tell what had happened, but after a lot of talk with an official, they decided that it had in fact passed over the tiny patch of fair ground. She dropped there and hit a wonderful chip, allowing her to save bogey; this was her first bogey of the entire week. She never quite recovered from that bad break, and after a bunch more pars, made a crushing double bogey on the 17th hole and wound up shooting a 3 over par 75. In the final round, she shot a 2 under par 70 and managed a 15th place finish. Not what she was hoping for, but still her best finish of the year to date. Hopefully it was the start of a return to form for the veteran star.
Jee Young did not allow Kang's troubles to distract her from the task at hand: catching Ochoa and keeping the tournament within reach. She put her approach on 12 within 6 feet and dunked the birdie to move to 13 under par. She would miss a few other birdie chances, but did make a nice one on the par 3 17th, the same hole that caused such heartache for Kang. Her final score was a 4 under par 68, which put her at 15 under par for the tournament. Normally, that would be plenty good enough to be leading the event. But Ochoa followed her four under par front nine with a four under par back nine to shoot a sizzling 64. That put her at 17 under par and gave her a two shot lead going into Sunday. Lee was all by herself in second, two shots ahead of Ai Miyazato and Stacy Prammanasudh. If Ochoa kept playing like she had been, it was going to be a tough ride to catch her. But generally, players do not follow low rounds with other low rounds, so perhaps Jee Young had a chance at last to capture the win that had been so close the last few weeks. And if she did, she would receive a gift she had not received before: a Rolex watch. All first time winners on tour receive a Rolex, but Jee Young did not get one when she won, because she was not a member of the LPGA at the time. Now she had a chance to right that particular wrong.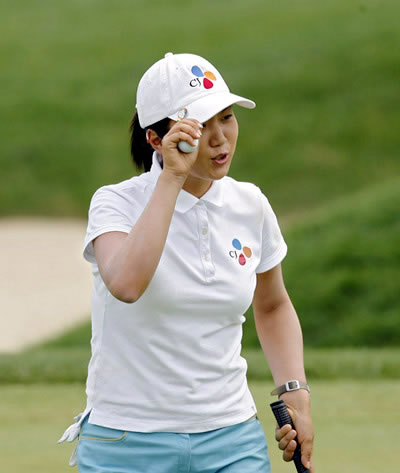 A few other Korean golfers did well on this day, but none save Lee were anywhere close to being in contention. The next best Korean on the leaderboard was fellow rookie Kyeong Bae. Bae shot a 4 under par 68 on Saturday to move to 10 under total and a tie for 8th. She had a good chance at a top ten if she could put together another strong round on Sunday. Young Kim and Birdie Kim were both tied for 13th at 9 under. For Birdie, a top ten would be enormous, for she had not managed one since winning the US Women's Open back in July of 2005. A bunch more Koreans sat at 8 under, still well within range of a top ten. They included Soo-Yun, Joo Mi Kim, Jeong Jang and Aree Song.
In the final round, Jee Young played in the final group with Ochoa and Japanese star Ai Miyazato. There is little doubt that she was the unknown quantity in that group, but her fantastic play and constant smile doubtless won a few fans for her on this day. At first, it looked like she might be able to hang with Ochoa, who was fighting to win her third event of 2006 and to recapture her lead on the year's money list. Both started the day with pars on the first three holes, then birdied the par 5 4th. But Ochoa birdied 5 as well to move to a three shot lead. They both made birdies on 7, but Jee Young birdied 8 to move back to within two shots.
One thing was pretty clear: if you made pars, you were going to lose ground on the field. Birdies were flying everywhere on the course. Kyeong Bae, who started the day in 8th place, shot a respectable 71 and actually lost ground, finishing in 12th. Soo-Yun bounced back nicely from her 75 with a 2 under par 70, but wound up only in 15th. Birdie Kim saw herself fall from just outside of the top ten to 23rd despite shooting an even par final round. The only Korean near the top ten who really took advantage was JJ. The Little Giant produced a 5 under par 67, which moved her to 13 under for the week and a tie for 6th. It was her 11th top ten of the year.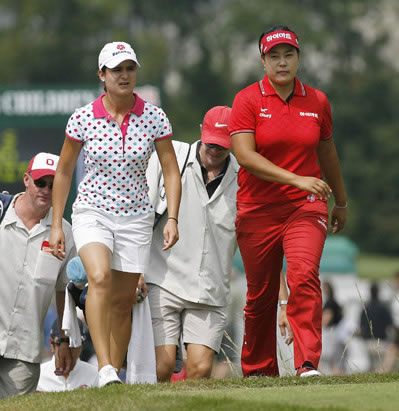 But only one Korean had a chance to win, and that was Jee Young. In fact, by this point, she was practically the only player of any sort that still had a chance to derail the Ochoa express. And she tried her best, making an eagle on the par 5 ninth after reaching the green in two thanks to one of her typically booming drives; Ochoa made birdie there, and the lead was now one shot. Ochoa, who is one of the longest drivers on tour, was consistently being outdriven by Lee by 20 to 30 yards when Lee chose to hit driver, which was not every hole. But Ochoa was on a roll anyway. She was four under on the front nine, while Lee was five under. Even after an amazing front nine, Jee Young had only been able to shave the lead by one shot. Would Ochoa ever cool down so that Jee Young had a chance?
The battle of the birdies continued on the back nine. Jee Young and Ochoa both made birdie on 10. By now Ochoa was at 22 under par, Lee 21 under. To put this in perspective, the lowest winning score in the history of this event before this year was 19 under. Lee was playing at a superstar level and was still losing. She didn't help her cause when she parred the par 5 11th, although Ochoa also parred there, so she didn't lose any ground at least. But on the 12th, she put her approach to about four feet and drained the birdie, while Ochoa just missed a twenty foot birdie try. For the first time in ages, they were tied. Six holes remained to crown the champion.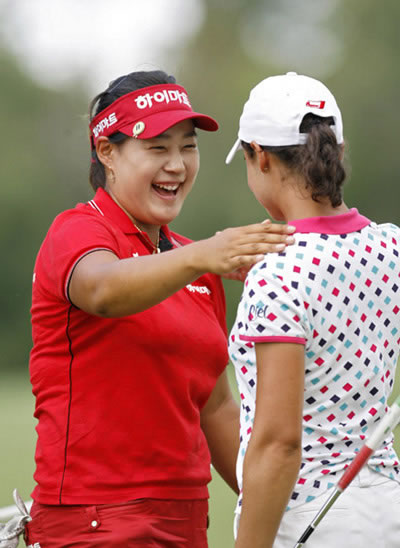 The next two holes told the tale. Ochoa turned up the heat, putting her approaches close on both 13 and 14. Lee had her chances, but was not able to convert. Ochoa did, and just as quickly as Lee had caught Ochoa, Ochoa had again carved out a two shot lead. Neither player made another birdie on this day, although Lee did make one bogey on the 16th hole to seal the deal. In the end, Lorena Ochoa shot a 24 under par total, while Jee Young had to live with a tie for second with Stacy Prammanasudh at 21 under par.

But though she was not able to win, it took an almost unbelievable 64-65 weekend from Ochoa to deny the young rookie her due. She did achieve her best finish of the year, and moved closer to Ai Miyazato for second in the Rookie of the Year standings (only slightly closer, though, since Miyazato finished just behind her in 4th place). She achieved her third straight top five finish and 5th top ten of the year. She had also impressed the heck out of the commentators who had gotten a chance to watch her play. One of them even opined that she had every quality necessary to be a superstar on tour, and compared her favorably to the gold standard of Korean golf, Se Ri Pak. Another said she had a huge future ahead of her. Considering that much of what she has achieved so far has been based on natural talent, one can only speculate how much more she will be able to achieve in the coming years when she gets a lot more practice under her belt.
But in the meantime, we can enjoy watching the growth of a new golfing star right before our eyes. Judging by the combination of extraordinary power, putting prowess, and positive attitude fans saw demonstrated over these three weeks, we'll be seeing a lot more of Jee Young Lee in the next few years. And sooner rather than later, she's going to earn herself a new watch to wear on her wrist.