The tournament scoring worked as follows: each day, the players were divided into matches of one on one competition, 12 matches per day. On Saturday, the players would participate in a match play contest; on Sunday, it would be stroke play. A win over your opponent netted you 2 points for your team; a tie netted 1 point for each team.
As the coverage began on Saturday, December 7th, the teams still were tied at zero. Most of the matches were quite close. The biggest problem was that the KLPGA stars were all losing their matches, and two of the Big Three, Mi Hyun Kim and Grace Park, were involved in tough matches themselves (Se Ri was dominating her opponent Shiotani). Our first glimpse of the action came at the 15th hole, where Soo Yun Kang struggled to stay in her match. 3 down, she managed to win 15 with a par and keep herself alive.

Then we got a nice long look at Se Ri Pak and her match highlights so far. Well, Se Ri may have been sick, but boy, she was playing the kind of incredible golf she is known for the world over. On the 2nd hole, Se Ri's approach stuck at 2 feet from the hole, while her opponent was more than ten feet away. But her opponent, putting first, made the birdie, denying Se Ri a win. On the fifth hole her opponent struck the flag, but the ball rolled about ten feet away from the hole, and Se Ri came up with the birdie and the win. On 6, Se Ri had an eagle chip, which she just missed, but the tap in birdie gave her another win. And so it went, until Se Ri had forged a 5 up lead by the 12th hole.
Back to the current action, Soo Yun Kang this time had a 25 foot birdie putt, but was not able to cash in, and the halve left her 2 down with 2 to play. Gloria Park then made her first appearance. One down to Takayo Bandoh on 15, she nailed a ten foot birdie putt to take the hole and bring her match all square. The LPGA Korean players were not going to give up without a fight!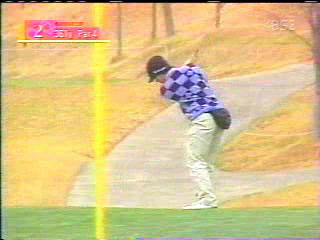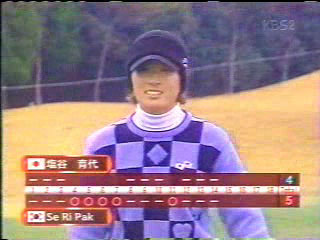 Now on 17, Soo Yun Kang's approach was short, but bounced in the pine needles and rolled onto the green. She smiled broadly after that lucky break, but she was still not able to birdie the hole. Orie Fujino made par as well, and thus won the match, taking the first points for Japan. The score: 2 - 0 Japan.
By this point, Grace and Mi Hyun were both 1 down to their opponents, and Hee-Won Han and Gloria Park were all square. All the KLPGA top players were down in their matches, Kang having just lost. Only Se Ri was giving them a ray of hope.
On 14, Se Ri hit her approach to 12 feet and lipped out her birdie putt; it sure looked like it was going to be good. Nonetheless, her opponent needed to win the hole to move on, and could not. So Se Ri won her match 5 and 4, fittingly scoring Korea's first points, and drawing her team even to the Japanese. Score: 2 - 2.

Another match was ending on the 18th at that same moment. Chieko Amanuma, who had beaten Annika Sorenstam at the Cisco World Ladies Match Play event, was one down on long time Korean star Ok Hee Ku. They both had makeable birdie putts, though, so anything could happen. Ku went first and missed, but Amanuma was not able to make her own birdie, so Ku took the match and put Korea ahead 4 - 2. Considering how the other Korean players were struggling, those might prove to be important points!