Meanwhile, Gloria Park was losing to Amanuma on 16 by one shot, and Hee-Won Han was close to Takayo Bandoh in her match. It was unlikely Japan could win all those matches, but Se Ri needed to close like she does so well in order to make the Cup theirs. On 18, Se Ri's drive was solid, as was Akiko's. But her approach was money, to seven feet while her teamed raved. Fukushima was 20 feet left of the hole, and was in all likelihood out of it, but she gave it a run, just burning the edge of the hole. The Japanese captain Akamoto smiled wanly, as if trying to look hopeful, but knowing in her heart it was all over. And indeed, Se Ri then stepped up and drained the birdie putt with authority, while her team chanted with glee in the background. Final score, Se Ri Pak 68, Akiko Fukushima 71. And the Koreans at that moment won the cup by taking the decisive number of points, 26.
Most of the gals stayed by the green to greet the remaining golfers, while Se Ri went inside to take a nap. Mi Hyun and Grace joined the others, and goofed off for the cameramen. At one point Grace started a rousing chorus of Jingle Bells (in Korean!). It was quite fun to see Grace, Soo Yun, Mi Hyun, Il Mi Chung and the others sing along (Peanut seemed particularly to like it, swaying back and forth with the rhythm!).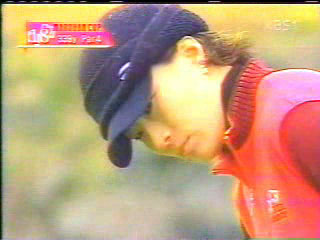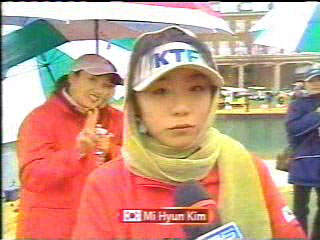 Eventually Hee-Won got there, winning her match, while Gloria lost hers. The final score was 30 - 18, a decisive rout in favor of the Seoul Sisters and co. The Dream Team had come through and then some! And in the process they won quite a few fans! The Japanese media, in particular, commented how attractive many of the Korean players were, and how great their games were.
Se Ri Pak won the MVP award, as well she deserved. Her dominating play gave the team confidence that they could live up to their potential. And boy, did they! So now the Maruhan Cup finally resides in Korea, and the team gleefully tossed their captain in the air to celebrate. Well done, ladies!