Back to the 403 yard 17th. Grace Park hit a splendid drive, and followed it up with a simply gorgeous iron to 4 feet short of the hole. She intended to apply all the pressure on her opponent she could. Fujii put her approach 12 feet past the hole, where a birdie putt would be a tricky proposition. She struck her putt, and it wound right, then curved back leftwards towards the hole, finding the bottom of the cup. A clutch birdie just when she needed it most. Now Grace, with her short birdie putt, was on the spot. But she just missed, and the scores became Grace Even, Fujii +1.
Now to 18. Mi Hyun had a comfortable lead, and made it an academic exercise by hitting a sterling short iron to 3 feet. The 18th hole is a short par 4 with a green surrounded on three sides by water. It has some unusual features: for instance, its sand traps surround its greens, and actually fade right into the water. To get from the green to the clubhouse, you need to walk on stepping stones through the water; there is no bridge. Mi Hyun had the match wrapped up, but lipped out her birdie. Her teammates razzed her. She did make par, though, and got the win. And so the score became 22 - 14, Korea. Only three more points were needed now. The Japanese would have to beat Grace and probably tie Se Ri to have any chance.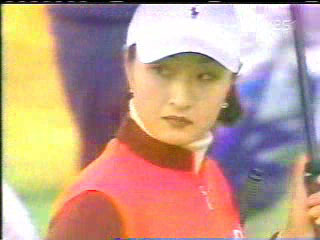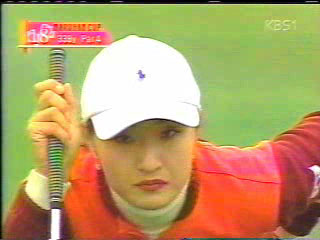 Grace reached 18 and hit a great drive. Her approach was not so good, leaving her 15 feet short of the hole. Meanwhile on 16, Se Ri put her approach in front of the green. Akiko was ten feet past the flag. But they both walked away with pars, allowing Se Ri to keep her three shot lead with two holes to go. Grace then struck her putt, which stopped right next to the hole, as her teammates cheered louder and louder as it closed in on the cup. They razzed her playfully as she walked up to the hole; she turned to them and tut-tutted them to be quiet (with a smile, of course!). One tap in later, Fujii had her last chance to halve the match. But she missed her birdie, just barely, and lost to Grace by one shot. Score: 24 - 14 Korea. They only needed one more point to win. Se Ri only had to tie Akiko to win the cup for Korea. Somehow it seemed fitting that Se Ri Pak, their biggest superstar, should be the one who had the chance to win the cup for the Koreans. Se Ri, who had gotten their first team points on Saturday, had a chance to get their winning points on Sunday.
On 17, Se Ri blew her drive past the 150 yards of rough in front of the tee, and finished perfectly in the middle of the fairway. But her approach was a bit long, bouncing into the rough just off the green. Akiko was short of the green on her approach, but her chip was quite good. Se Ri, faced with a downhill chip, needed to be careful not to let Akiko back into the match. But her chip rolled 5 feet past, and she was not able to save par on the comebacker. Akiko did make par, and the score was now Se Ri -3, Akiko -1.