Now another unsung Korean stepped up to the plate: Jeong Jang was locked in a tight battle with Nakajima of Japan. Nakajima missed a 15 footer for birdie on 16, while JJ chipped it close and made par to halve the hole and go dormie, 2 up with 2 to play.
Mi Hyun Kim made her first TV appearance on the par 3 15th. 1 down to her opponent Kaori Higo, she hit her drive right next to the bunker. Higo had a chance, but her own drive was well left, and now it would become a test of who could get up and down better. Don't challenge Peanut in that category! She hit a gorgeous shot from the rough to three feet, then made the par. Higo could not follow suit, and again their match was even.

Gloria Park now had dropped behind Bandoh, and as they reach the 18th green, she needed a win to halve the hole. But Bandoh nailed an 8 footer from left of the hole, making anything Gloria would have done academic. She won 1 up, and at almost the same time, Il Mi Chung lost her match. The Japanese team retook the lead. Score: 6 - 4 Japan
Perhaps energized by this swing, Nakajima took the initiative against Jeong Jang on 17. Though 2 down with 2 to play, she won 17 when JJ left a putt to tie just short of the hole. Now their match would all come down to one hole. JJ was assured a tie, but the win would obviously help her team a lot more.

Now we got our first look at the final Seoul Sister, Grace Park, who had also pulled even with her opponent, Takahashi. Grace, the winner of the Cisco match play event, would certainly be considered one of the top match players in the field. But she missed a birdie putt on 15, putting it well past the hole, and her par comebacker tailed off right at the end to miss the hole. Takahashi took advantage, and took the lead. Grace was none too happy about it, either!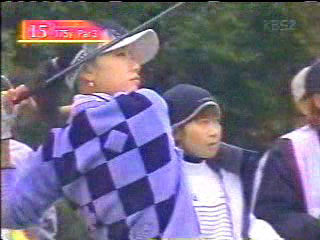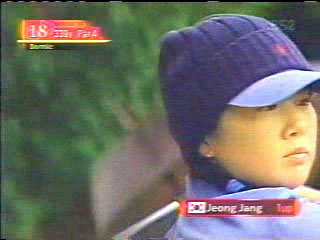 Now Jang and Nakajima reached 18. Jang's approach went a bit long, giving Nakajima a chance to put the pressure on. Alas, her shot was 15 feet short. JJ putted first, and again missed the birdie. So Nakajima had one more chance to square the match, but could not do it (though it was very close, just brushing by the hole). Jeong won, 1 up, and raised her hands in victory, while her country women, who were gathering by the side of the 18th green as their matches ended, cheered her on. Even Nakajima thought Jang's victory cheer was cute, and patted her on the head (Nakajima being about ten inches taller than Jang). Again the match was tied, 6 - 6.