On 16, Kimmie was +1, Kubo E. But Peanut put her approach 6 feet left of the hole, while Kubo ended up in the bunker short. The ball was fairly buried in the sand, and it was all Kubo could do to get it out. That still left her a long chip, which she blew a good ways past the hole. Peanut had a chance to finish her off with a birdie, but just missed it, and to compound things, Kubo then made a ten foot bogey save. So now they were tied at +1, but it very easily could have been a two or three shot swing.
Meanwhile on the par 3 15th, Grace had a 40 footer for birdie. Her putt *just* missed going in, and she tapped in the par. Fujii missed her par, and thus Grace had the lead, Even to +2 for Fujii.

They moved on to the 16th hole. Fujii missed the fairway and ended up in a grassy depression to the right. She managed to get her ball to land just off the green. Grace, meanwhile, had hit a perfect drive, and then hit a nice short iron. Perhaps nice is a gross understatement. She nailed the flag to the oohs and aahs of the crowd, and the ball bounced to six feet past the flag. But Grace missed the birdie putt and had to settle for par. Fujii did likewise, but Grace was not going to let her off the hook!

On 17, Peanut hit another solid drive, then stepped up to hit her long approach. On Saturday she had hit a long wood to within 6 feet of the hole, setting up her winning birdie. This time she nailed the approach, and it rolled up to the flag, pin high... even closer than on Saturday! Wow, what a shot that was! The Seoul Sisters were just turning on the talent all over the course. Kubo hit her approach well left, but the ball hit a tree and dropped straight down, preventing disaster. She had to chip it sideways into the fairway.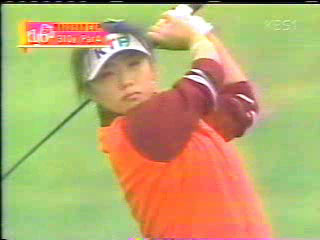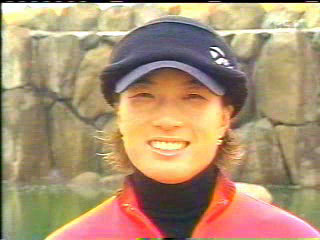 Now we got our first look at the marquee matchup, Pak vs. Fukushima. And they were not disappointing the fans. Akiko was at 2 under, Se Ri 4 under. They had reached the par 3 15th, and Se Ri's approach plopped nicely 8 feet from the hole. Akiko missed the green. We found out at this point that Se Ri had been 5 under on the front, one over on the back. Still suffering from a massive cold, she seemed to be slowing down, but if her tee shot was any indication, she still had plenty of game left.
Switch to the 18th, where the growing crowd of Korean teammates cheer as Jeong Jang wins her match, moving Korea to a 20 - 12 advantage. Jang shot a 4 under 68 in another sterling round by a Korean player. And now the drama was heightened, for the three Seoul Sisters, if they all won their matches, would put Korea over the top! Things were looking good! Score: 20 - 12 Korea

Alas, we switch then to 17 where Peanut somehow missed her short birdie by a hair and had to settle for par. Fortunately for her Kubo, who had had to chip out of the woods, was not able to save par, and dropped another stroke to Mi Hyun. Their scores: Mi Hyun Even, Kubo +2, with one hole to play.
Akiko, meanwhile, on 15 hit a nice high chip shot to within a few feet of the hole. Se Ri did not make her birdie, giving Akiko a chance to stay only two back of Se Ri. But she missed her par putt, and their scores now stood Se Ri -4, Akiko -1.
On 18, Kaori Higo stopped the bleeding temporarily by winning her match over Woo-Soon Ko. Score: 20 - 14 Korea.