And the Korean momentum continued when Kimmie went 1 up after Higo missed a 5 footer on 16. Then came the 17th, a 403 yard hole. The drive required a long shot over about 150 yards of gnarly bushes. No problem there. But Kimmie still had a wood approach into the green. She cranked it up, and as is her specialty, rolled the ball up to about 6 feet past the hole. What a shot! Perfectly on line, just brushing past the hole to settle where it did. Being one down, Higo had to do something to stem the tide, but her approach was not nearly so good, and she missed her putt. Now it was Mi Hyun's chance to close her out. She measured the putt and stroked it. It ambled ever so slowly towards the hole, turning slightly right, then dropped with its dying breath right into the hole. An absolutely perfect putt for the win. Mi Hyun squealed with delight as she hugged her caddie, a Japanese woman who seemed even smaller than she! And again Korea retook the lead. Score: 8 - 6 Korea

The top players were coming through, and now it was Hee-Won Han's chance. She was matched against Akiko Fukushima, arguably the top Japanese player since Yuri Fudoh was not present. On 15, they were all square. Han left her tee shot just off the green, and her chip approach still was 4 feet short of the hole. But Han saved par, while Akiko lipped hers out, and just like that, Han took a crucial lead. The tide was turning. Three of the remaining five matches were being led by the Koreans.
The coverage ended just then. As it turned out, Grace Park would go on to halve her match. Hee-Won, however, won hers, and the score after day one was 14 - 10 Korea. Not the big lead they were hoping for, but not a bad result.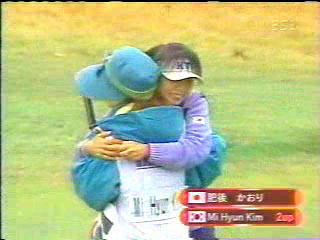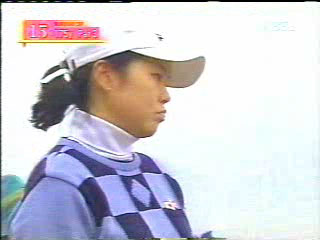 Hee-Won Han waits for Akiko Fukushima to
finish on Saturday
Sunday
The Japanese players had their backs up against the wall, and they needed to make up some ground in the stroke play compeition in order to retain the cup. They sent out their veteran player Ayako Okamoto, winner of 17 LPGA titles, as the first player, hoping she could get some momentum going for their team. As it turned out, she matched up against the Koreans' most veteran player, Ok Hee Ku. Well, Okamoto won that battle, and got her team off to the start they needed.
As the coverage started, Soo Yun Kang was reaching 18. Embarassed in her first round match, Kang came back with a vengeance on Sunday, drubbing her hapless opponent one under to 8 over par. Fellow KLPGA star Mi Na Lee also bounced back mightily from her first day defeat with a 5 under 67 to beat her opponent by 5. The score was now 18 - 12, Korea, with a run of top LPGA players preparing to finish their matches. The KLPGA players had done their part, and now it was time for the Big Three to bring it home.

As it turned out, all three Seoul Sisters had compelling match ups. First would be Mi Hyun Kim, who was locked in combat with Mikino Kubo, a Japanese player who had played at the LPGA's Samsung tournament in October. Behind her was Grace Park, who was duking it out with Kasumi Fujii. If that name sounds familiar, it's because Fujii became only the fourth player to shoot a 61 at an LPGA event when she did it at the 2002 Takefuji Classic. The other three? Se Ri Pak, Annika Sorenstam and Karrie Webb. Then was Se Ri Pak vs. Akiko Fukushima, the battle you wanted to see, between two of the biggest hitters in the game.